Tens of thousands of protesters rallied in front of parliament in Tokyo on 14 September against the government's new security legislation and calling for the resignation of Japanese prime minister Shinzo Abe.
The rally began on two pavements in front of parliament behind police barricades. But the number of protesters soon swelled and spilled out on to the main street. Some scuffles broke out in various locations before the barricades were taken down to accommodate the protesters.
Sogakari Movement, one of the organisers of the protest, said about 45,000 protesters gathered in front of parliament. Despite such big protests held on a weekly basis, Abe's ruling party wants to pass the security bills, which would allow Japanese troops to fight abroad for the first time since the Second World War, before parliament ends its session on 27 September. A vote in the upper house is expected this week.
"Abe's government is currently not listening to the voices of the people, and many things are being pulled back to the past in a bad way, so I can't keep quiet, So I came here because I don't want my children or grandchildren to be in a situation like that of during war or before war," 69-year-old protester Yasuko Yanagihara told Reuters at the demonstration.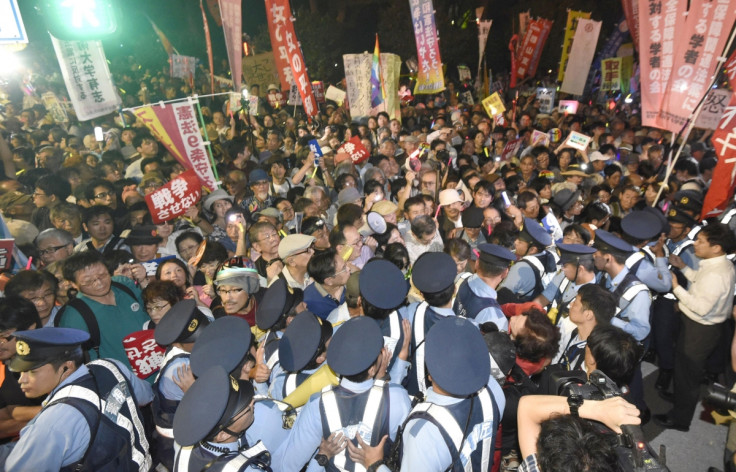 A poll carried out over the weekend and published on 14 September by Japanese newspaper Asahi Shimbun showed 54% of the public opposed the legislation against 29% who backed it, with 68% in the survey saying they saw no need to enact the bills during the current session.
"First and foremost, I'm against the idea of crushing power with power. I'm upset mainly about the fact that there is no debate about that idea in parliament," 24-year-old graduate school student Haruna Shiina said at the rally.
Abe's ruling bloc has a majority in the upper house, but opposition parties have vowed to use all possible means to prevent a vote, including delaying procedures by submitting time-consuming non-confidence and censure motions.
Support for Abe's government fell to 36%, the survey showed, the lowest rate since he took the office in December 2012 and down from 38% in last month's poll. Abe's disapproval rating inched up to 42% from 41%.