A volcanic eruption in Japan has sent plumes of ash 6,500ft into the sky, disrupting local flights and forcing the evacuation of the immediate area. Mount Aso, on the island of Kyushu, erupted without warning, but due to its isolated location there have been no reports of any injuries.
Around 100 people including hikers on a nearby rope bridge and tourists in a car park have been safely evacuated and police are searching the area. As a precautionary measure no-one is being permitted to travel within 4 km (1.25 miles) of the 1,592-metre (5,222ft) mountain - Japan's largest active volcano - and flights to the nearby city of Kumamoto have been diverted, including several from Seoul in Korea. The danger level has been raised to three out of a possible five.
"We suddenly saw an unusually massive plume rising in the air," Aso official Kimihiko Jo told AFP. "The black and grey column at one point appeared to be weakening, but it's growing bigger again."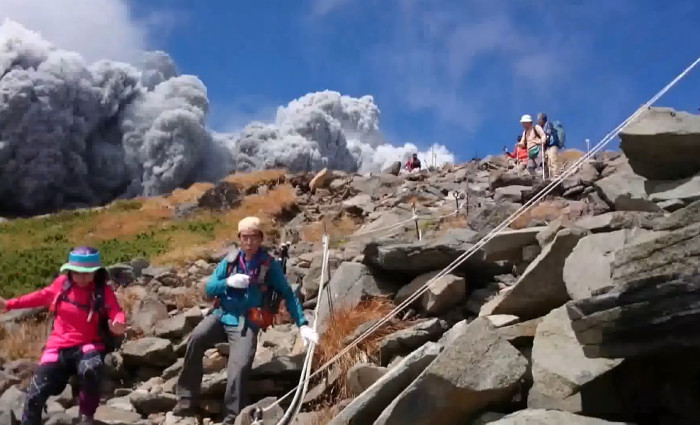 Prime Minister Shinzo Abe has ordered troops and police to the vicinity to see if there were any injuries. "We are doing our best to secure people's lives by working together with local governments," Abe told journalists in Tokyo.
Japan's Meteorological Agency warned that further eruptions could not be ruled out. Sadayuki Kitagawa from the agency warned of the "possibility of volcanic rocks landing in an area over a 1-kilometre radius."
The Sendai nuclear plant, 100 miles away, has not been affected by the eruption according to the plant's owners, Kyushu Electric Power Co. In August Sendai was the first nuclear plant to restart following the triple meltdown at Fukushima caused by the earthquake and tsunami in 2011.
Mount Aso is one of over 100 active volcanoes in Japan, much of which sits on the so-called "Ring of Fire." Aso had a minor eruption in August (2015) as well as several last year. In 2014 an eruption at Mount Ontake killed 57 people.