Japanese Prime Minister Shinzo Abe has expressed his interest in meeting incoming US President Donald Trump as soon as possible to strengthen ties between the two countries. Speaking ahead of the Republican's inauguration, he said the US-Japan alliance is an "immutable principle".
Abe's urgency to meet Trump stems from the latter's statement during his election campaign that he would give preference to "America first". Besides, he had demanded that Asian allies pay more for security provided by US forces and also voiced his opposition to the Trans-Pacific Partnership (TPP) trade pact.
"The Japan-US alliance has been, is and will be the cornerstone of our country's diplomatic and security policies. This is an immutable principle," Abe said during a regular parliamentary session.
"I am aiming to visit the United States as soon as possible to further fortify the bond of alliance together with new President Trump," Reuters cited Abe as saying.
Abe was the first foreign leader to meet Trump soon after the Republican clinched a historic win in the US elections in November 2016. The Japanese leader made a stopover in New York on his way to Latin America to congratulate Trump and called him a "trustworthy leader".
However, Abe did not specify when he plans to visit the White House, but local media reports suggested that he might make a trip sometime later this month.
He added that the two World War II enemies have a responsibility to show "the power of reconciliation" and that they must work together to ensure global peace and prosperity.
Abe repeated his support for the TPP, which reportedly could go into a deep freeze if the US decides to pull out as Trump had said.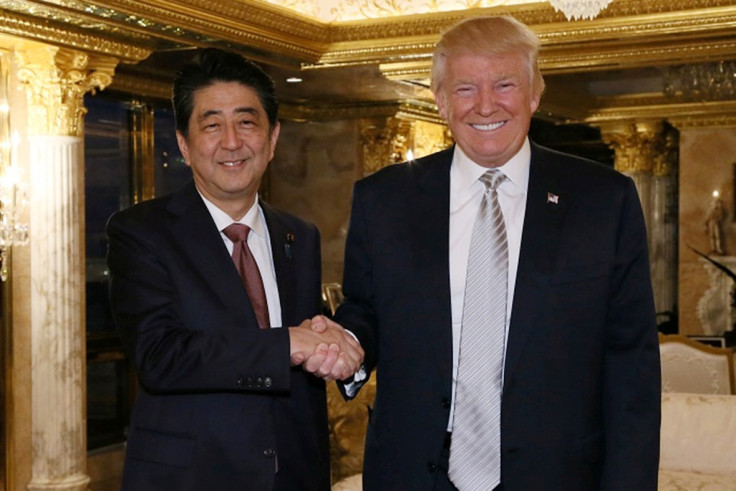 Abe is also reported to have highlighted the country's concerns over China's growing military assertiveness. He added that he wanted to keep the US troops on Okinawa island as a "deterrence". During his campaign, Trump had threatened to withdraw the 50,000 odd American troops if Japan fails to pay more for their upkeep under a bilateral security pact.