Japanese woman caught cycling into a ditch on Google Street View
Google Street View car near miss ends with an awkward stumble.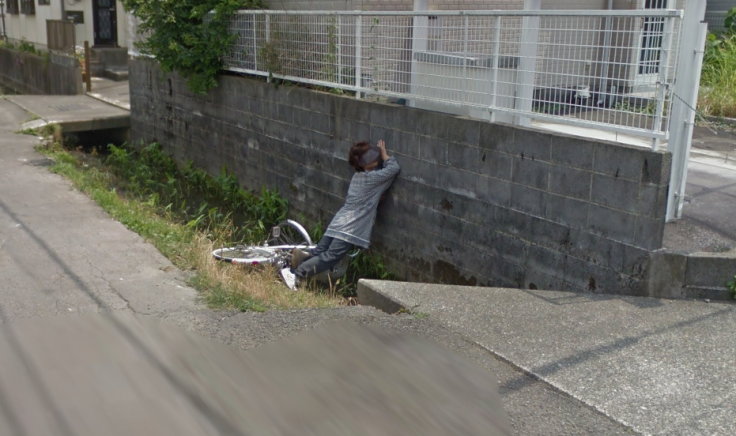 Google Maps' camera-toting Street View cars have captured panoramas of well over 5 million miles of road spanning thousands of cities around the world.
As a result, there are very few places that have managed to escape Google's watchful glare as its interactive maps are freely available to peruse and explore by billions of people – a scenario that's especially unfortunate for those caught doing something a bit silly.
Twitter user @ichigoKJC spotted one such gaffe when taking a virtual trip down the streets of Fujieda, Japan. Intrigued to see how her old residence now looks on Google's latest Street View images, the user eyed a female cyclist veering towards, and eventually into, a roadside ditch.
In a tweet (embedded below) posted on 1 September that has since gone viral, amassing over 50,000 thousands retweets and 80,000 likes, ichigoKJC documented the woman's accidental, hilarious fall with four images captured directly from Google Maps.
The incident starts with the woman merrily cycling around a corner, blissfully unaware of her fate. Perhaps as a result of the oncoming Google vehicle, she attempts to move to the very edge of the road and appears to lower her leg to either dismount the bicycle or steady herself. At this point the Google Street View car veers slightly to the right in an effort to avoid a collision.
The safety procedure was all in vain however, as moving Street View along the Tokigaya road reveals that she succumbed to the ditch's grasps - half-falling in a standing position before fully embracing the ditch and unceremoniously face-planting an adjacent wall.
Thankfully, panoramas taken further away from the incident show that the unwitting victim recovers fairly quickly from her unhappy date with gravity, if possibly a little bruised.
Several responses to the initial tweet claim that the images show that the woman was wearing muddy shoes and only had herself to blame for the silly slip. Others (translated by RocketNews) questioned her motives, suggesting it was a finely orchestrated stunt. You can judge for yourself at this Street View link which shows the start of the woman's ordeal.
Whatever the reason, the cyclist-who-fell-in-a-ditch joins a long-line of Google Street View international stars. Recently, a fellow cyclist was photographed for Street View while 'dabbing' along an entire road in Australia.
In an incident of a much more serious nature, a Google Street View vehicle captured images of what appeared to be an armed hijacking in Johannesburg, where an ADT security guard was forced out of his van at gunpoint.
© Copyright IBTimes 2023. All rights reserved.