Following the massive hoopla made about Jay Z's new streaming service Tidal just weeks ago, it is most likely embarrassing for all involved that the streaming service appears to have flopped already.
There are reports that the hip hop mogul and his wife Beyonce are releasing a joint album exclusively on Spotify's rival, but will it be enough to save the ambitious venture?
According to The Guardian, Tidal's app has dropped out of the iPhone top 700 downloads chart but the lowest blow is the fact that its competition, Spotify, soared into the top 20.
With consumers refusing to buy into the venture, Jay Z, 45, has reportedly whipped up another plan to save the day.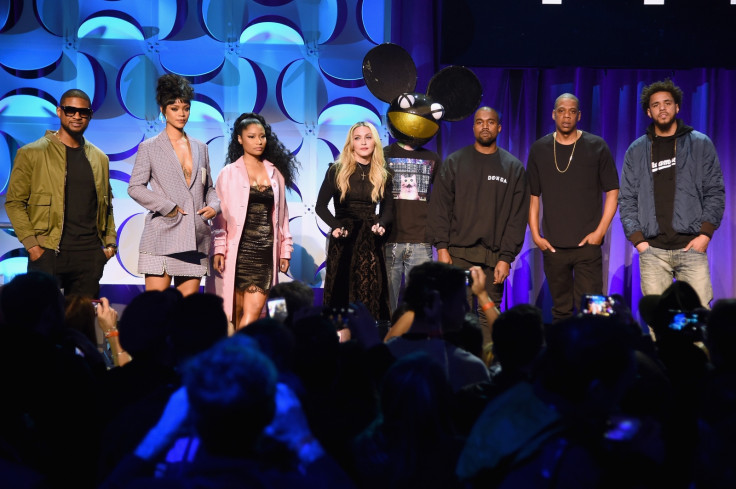 According to Los Angeles-based DJ Skee, the businessman will be teaming up with his Grammy-winning wife to record their first joint album. The catch is that fans will have to buy a monthly subscription to the service to hear the collaborative LP - Tidal has no free option unlike Spotify.
In a video clip, Skee says: "[The album] is nearing completion and now my sources are saying it will be released exclusively on Tidal."
DJ Skee points out that when Jay Z teamed up with Samsung to exclusively launch his 2013 album, Magna Carta Holy Grail, the plan backfired when the mobile brand's servers crashed, pushing thousands of fans to illegally download the record.
History could repeat itself as fans do not seem willing to pay for a Tidal subscription to hear the rapper's reported album with Beyonce:
In March, the Holy Grail rapper launched the service in New York City with a live event which saw musicians such as Nicki Minaj, Madonna, Kanye West, Taylor Swift, Jack White, Daft Punk and Alicia Keys, sign on as co-owners.
These artists have made their music available exclusively on Tidal with the main objective being that they can fill their already bulging pockets with 75% profits as opposed to the 50% of revenue Spotify pays to musicians.