Living For Love singer Madonna has denied that Jay Z's new music streaming service, Tidal, is part of the Illuminati.
Following the launch of Spotify's new rival in New York City on 30 March, Madonna, 55, responded to Twitter speculation that the entire venture has been masterminded by the secret society, describing it as the "highest of compliments".
The pop icon posted on Instagram:
Speculation from Twitter users included:
Coincidentally, the Material Girl hitmaker has a track on her latest album Rebel Heart, titled Illuminati. Denying that it means she is a member of the reportedly powerful group, Madonna told Rolling Stone in December 2014: "People are always using the word Illuminati but they're always referencing it in an incorrect way.
"People often accuse me of being a member of the Illuminati and I think in today's pop culture the Illuminati is perceived as a group of powerful, successful people who are working behind the scenes to control the universe. Not people with consciousness, not people who are enlightened. So people were accusing me of being a member of the Illuminati, and I kept going, wait – so first I had to figure out what that meant."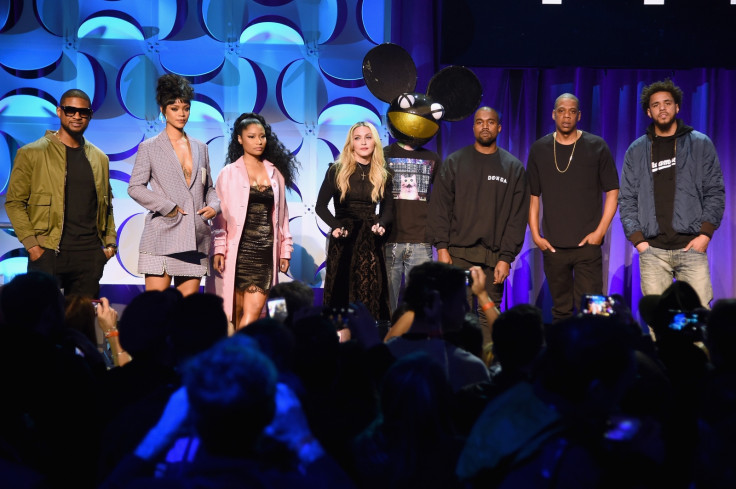 The queen of pop explained that she has done her homework on the Illuminati, adding: "But the thing is, I know who the real Illuminati are, and I know where that word comes from," she told the magazine.
"The real Illuminati were a group of scientists, artists, philosophers, writers, who came about in what is referred to as the Age of Enlightenment, after the Dark Ages, when there was no writing and no art and no creativity and no spirituality, and life was really at a standstill. And right after that, everything flourished. So we had people like Shakespeare and Leonardo Da Vinci and Michelangelo and Isaac Newton, and all these great minds and great thinkers, and they were called Illuminati."
Kanye West, Kesha and Lady Gaga are among the famous faces rumoured to be Illuminati members.
Joining Madonna and Jay Z at the launch of Tidal were Beyonce, Rihanna, West, Jack White, Arcade Fire, Nicki Minaj and Alicia Keys. All musicians signed a contract as co-owners in front of an audience and the event was live streamed.