The world's longest zipline has just opened to the public. It will send brave souls in the United Arab Emirates flying at 93mph.
Ras Al Khaimah officially received the Guinness World Record on Thursday (1 February) for the multi-million dollar Jebel Jais Flight: The World's Longest Zipline. The adrenaline junkie attraction will send thrill-seekers along a 6-ton cable at speeds of up to 93mph for 1.75 miles at a height of 1,680 metres above sea level at the chasm of Jebel Jais mountain, the UAE's highest peak.
Participants will wear a special suit and be strapped to the cable in a horizontal head-first Superman-style position before embarking on the flight, which will take between two and three minutes. Even better, there are two main ziplines, meaning people can race their friends and family to the bottom.
Once completed, guests will finish the bucket list experience on a unique suspended landing platform, where they will be transferred to a second zipline – measuring 1 km – to complete the journey to the ground.
If a rider takes flight every two minutes on each zipline, operator Toroverde Ras Al Khaimah believes they can accommodate 200 people per day and around 100,000 a year.
HH Sheikh Ahmad bin Saud bin Saqr Al Qasimi was the first to try out the new zipline on Thursday morning after it was officially crowned the longest in the world. The maiden flight was the result of a year's planning, including extensive feasibility studies, master-planning, comprehensive surveys, soil tests and construction simulations.
It is hoped the zipline will bring "considerable" global recognition for the smaller emirate of Ras Al Khaimah, which is now receiving its largest ever visitor numbers but wants to compete further with the likes of Dubai and Abu Dhabi, particularly to become the region's "adventure and activity tourism hub".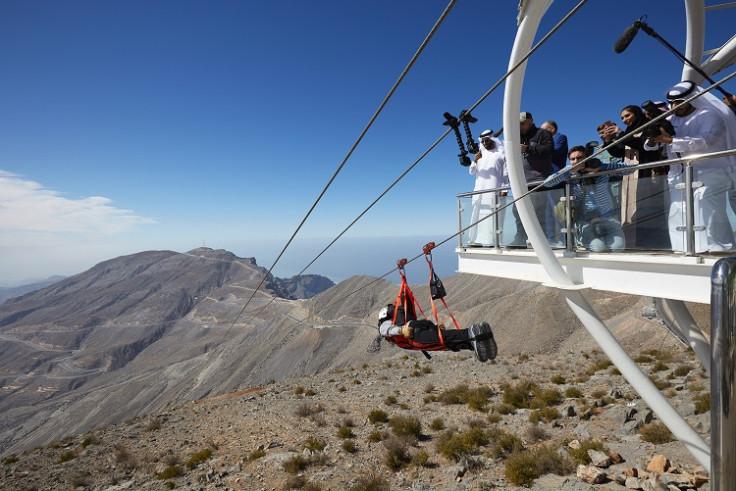 Haitham Mattar, CEO of Ras Al Khaimah Tourism Development Authority, said: "The Jebel Jais Flight will become Ras Al Khaimah's flagship tourism product and will cement Jebel Jais as the adventure tourism hub of the Middle East. We are expecting to see an increasing number of adventure tourists coming from across the globe to try this bucket list experience."
There are no age restrictions on participants, but they must weigh between 150kg and 45kg and be at least 120cm tall. They must also be able to cough up AED650 (£124) per ticket.