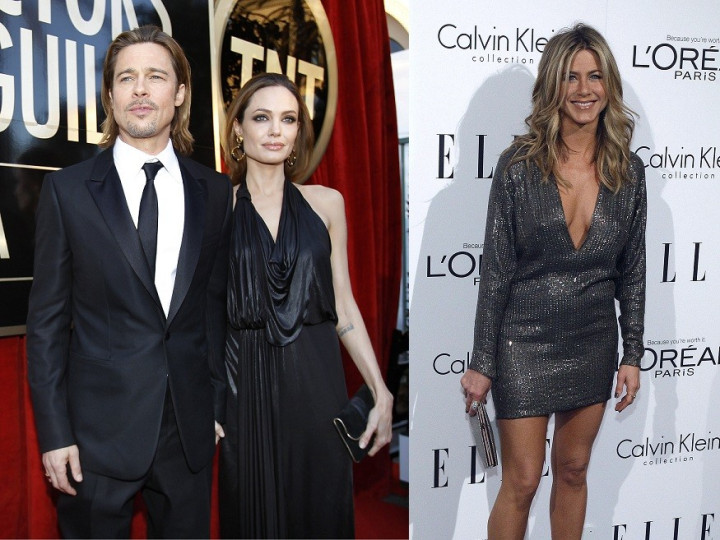 Jennifer Aniston is so scared of facing her ex-husband Brad Pitt and his partner Angelina Jolie, that she has reportedly hired a 'confidence coach' for help.
After many years of successfully avoiding any public run-ins, former couple Aniston and Pitt may finally be facing each other at common friend George Clooney's wedding.
According to Enstars, Aniston is quite scared of humiliating herself in case she runs into her ex-husband and Jolie at the star-studded ceremony.
"Jen's no stranger to therapy, so she decided to seek some help," a source says, according to BANG Showbiz News.
"At the wedding, she'll have Justin there for support, but the thought of seeing Brad and Angelina is quite overwhelming. The therapist has been helping to build her confidence and eliminate the fear she seems to have built about coming face-to-face with them. She has also been having hypnotherapy," adds the source.
"Brad and Jen's publicists have worked really hard to avoid awkward run-ins over the years, but now they're figuring out the best way to stage manage George's wedding," a source told British magazine Heat in May.
Pitt might be playing quite an important role at his Ocean's Eleven co-star's wedding. As per rumours, he might be Clooney's Best Man. The wedding will take place in Italy in September 2014.
The last time Aniston, Pitt and Jolie were seen under one roof was at the 2009 Oscars when the We're The Millers star was on stage presenting an award and Pitt and Jolie were seated in the audience.
Meanwhile, Aniston is planning her own wedding for this summer. Reports say she will be tying the knot on Theroux's 43rd birthday, 10 August. The couple announced their engagement in August 2012.