Labour leader Jeremy Corbyn has defied critics by attending a Christmas fundraising dinner organised by Stop the War Coalition (SWC) and praising the group, which he helped set up and lead for 30 years. Green MP Caroline Lucas recently left SWC over some of its views and Labour's Tristram Hunt was among those who said Corbyn should distance himself from the group.
SWC, mostly composed of Socialist Worker's Party supporters and Communists, was widely condemned for saying that the French had "reaped the whirlwind" for supporting Western interventions in the Middle East following last month's Paris attacks. SWC also claimed in an article that the Islamic State (Isis) were similar to to the "spirit of internationalism and solidarity" of the Spanish Civil War International Brigades - though the article did also condemn IS, also known as Daesh.
Both articles were withdrawn but some Labour MPs said Corbyn should put more distance between himself and the group, which some claim is behind a campaign of intimidation against Labour MPs who voted to extend air strikes to Syria.
Speaking on BBC Newsnight, former Labour leader Ed Miliband said he would not discuss on what organisation Corbyn chooses to be a member of. "He's got a long-standing association with this organisation, he's got a long-standing opposition to different types of intervention," said Miliband. "He spoke on this in the Syria debate.
He added: "I think our party's focus should be on taking the fight to the Tories and working out the ideas that are going to win us the next general election, not Jeremy Corbyn's political engagements."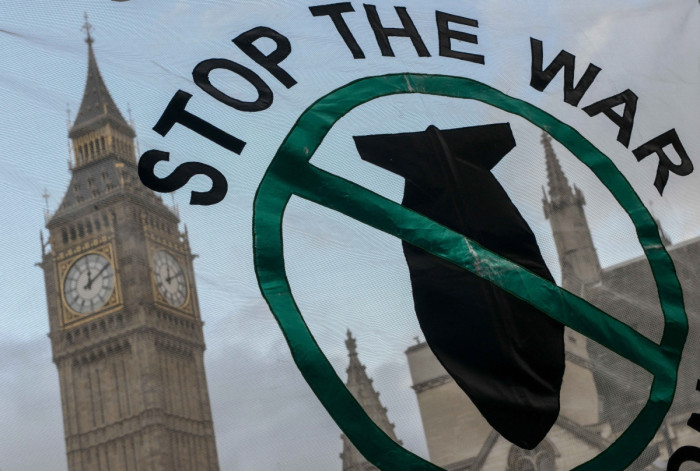 The SWC's fundraiser and Christmas party at a south London Turkish restaurant Corbyn hit back at his critics saying: "The Stop the War Coalition has brought hundreds of thousands of people on to the streets time and again. It has organised protests and lobbies in every part of the country, including by military families.
"Most of all, it has been shown to be right in opposing more than a decade of disastrous wars – in Afghanistan, Iraq and Libya – while many of its most vociferous critics supported them." He was also praised by new chairman Andrew Murray who said many Labour Party members had voted for Corbyn "because of his stand against war, not in spite of it".
The event was picketed by a number of protesters including gay rights campaigner Peter Tatchell. SWC has also been condemned by some Syrian campaigners for allegedly not doing enough to criticise the regime of Bashar al-Assad. SWC has also been forced to pull a third article from its site, this time demanding it was "Time to go to war with Israel".