Jeremy Corbyn's flagship employment rights initiative, Workplace 2020, still lacks a website more than two months after the Labour leader launched the scheme on 19 May. Corbyn described the programme as a national conversation on workers' rights, which would allow Labour to engage with employers and workers to create new policies.
But users are currently met with a holding page when they visit the Workplace 2020 website. "We want to ensure that no one is left behind and that rewards are shared more evenly," a message on the site says.
"That's why we're launching our biggest ever discussion on the workplace – so we know what the world of work should look like in 2020.
"So whether you're an employer, an employee, or both: we need to hear from you. Our website is currently being made, so check back again soon."
A spokesman for Corbyn insisted to IBTimes UK that there is "definitely more to come from this" when quizzed on the progress of the initiative.
However, the spokesman and the Labour Party press office had not responded to a request of the review's timetable at the time of publication.
Employment law has dominated the Labour leadership contest, with Corbyn's sole challenger being the former shadow work and pensions secretary, Owen Smith. Both candidates have promised to abolish zero-hours contracts and scrap the Conservatives' controversial Trade Union Act.
Corbyn most recently said he would discuss reducing the working day down to six hours or as part of his Workplace 2020 initiative, while Smith promised to immediately raise the Living Wage from £7.20 ($9.38) per hour to £8.25 per hour and extend the rate so that over 18s are entitled to it.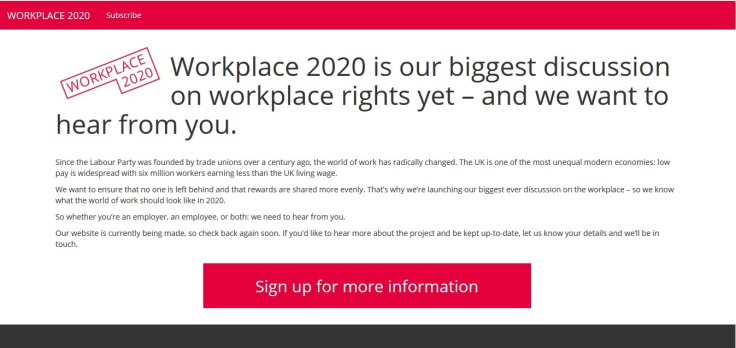 A High Court ruling gave Corbyn a boost yesterday (8 August) after it decided new Labour members who joined after 12 January could have a say in the leadership contest without paying a £25 fee.
The ruling could override Labour's National Executive Committee (NEC), but the party has vowed to appeal the decision at a hearing as early as Thursday (11 August). John McDonnell, chair of the Jeremy for Labour campaign, described the move as "deeply disappointing".
He added: "This is just an attack on the basic democratic rights of members in our party. We are a democratic socialist party, you cannot have one without the other.
"I hope that Labour HQ rethinks this decision as it could leave a legal bill in the hundreds of thousands of pounds that we could be spending instead on campaigning to hold this Tory government to account, instead of subverting our own democratic processes."
"Due [to] this decision, we are now in the absurd position that Labour HQ is wasting members' money to prevent members having a democratic vote on the leader of their choice, which has already been firmly upheld by a High Court judgement."
If the ruling is upheld, more than 100,000 Labour members could be added to the list of people eligible for a vote.