Pictures of British special forces operating on the ground in the fight against the Islamic State (Isis) in Syria have emerged. The images — which were taken in June — show a dozen special forces soldiers helping to defend a Syrian rebel base from IS (Daesh).
In the pictures obtained by the BBC, troops are seen operating on the front line inside the war-torn nation for the first time. The photographs were taken in the aftermath of an IS attack on the rebel New Syrian Army base of Al Tanf, situated close to the border with Iraq.
While British troops were reportedly there in a defensive capacity, they were prepared with anti-tank missiles, machine guns and sniper rifles. They also drove the Al-Thalab, a high-mobility long-range patrol vehicle designed for surveillance, reconnaissance, internal security and border patrol forces, according to army-technology.com.
Unlike regular soldiers, the deployment of Britain's special forces does not require the green light from parliament. The pictures are the first proof of the elite division's presence in Syria. The Ministry of Defence (MoD) refused to comment on special forces operations.
A spokesman for the New Syrian Army would not comment specifically on the photographs, but he did recognise assistance from the soldiers. "We are receiving special forces training from our British and American partners," he told the BBC. "We're also getting weapons and equipment from the Pentagon as well as complete air support."
He added: "We need the international community to take a serious stand with all Syrians, with the Syrian rebels and the Syrian revolution in order to decapitate the head of terror, whether it may be Assad's or IS' or any terrorist organisation in Syria."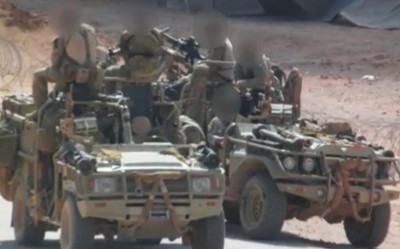 The RAF is conducting air strikes against IS targets in Iraq and Syria. Earlier this month the UK and coalition forces pounded a palace in Mosul built by Saddam Hussein, which had been overtaken by IS and used as a training facility.
IS seized Iraq's second city in 2014. Mosul is considered the terror group's de-facto capital in Iraq.
Defence Secretary Michael Fallon welcomed the operation and said: "Daesh has been losing followers and territory for months, and emphatic strikes like this show that we and the coalition will not waver.
"Daesh fighters, both foreign and home grown, can see that they are targets inside this cult."