Jerusalem: French tourist attacked by four Palestinians for showing Israeli flag at al-Aqsa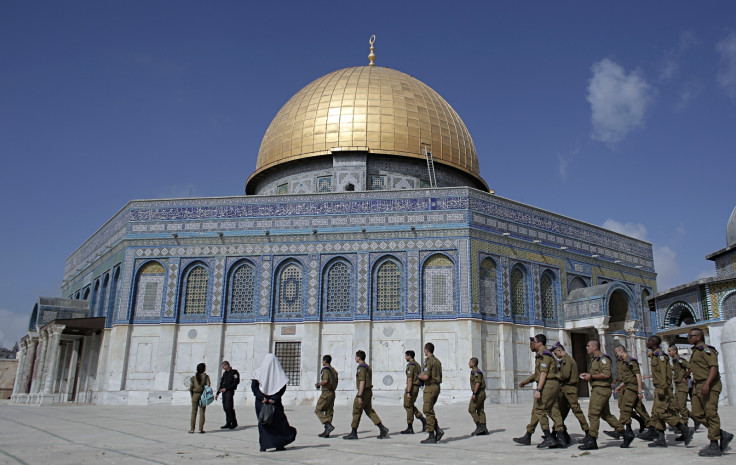 Four Palestinians have assaulted a French tourist after he started waving an Israeli flag at the al-Aqsa mosque in Jerusalem, Islam's third holiest site. The man was lightly wounded to the head and taken for medical care, according to AFP, and faces charges of disrupting public order. The four Palestinians were also detained for assaulting the tourist. They were identified as residents of occupied east Jerusalem.
On 2 August, clashes erupted at the site after masked Palestinians threw stones at security forces while protesting against the killing of a toddler in an arson attack in the occupied West Bank allegedly carried out by Jewish settlers.
The Al-Aqsa compound is one of the most contentious areas for the Israeli-Palestinian conflict.
It is Islam's third holiest site after Mecca and Medina and it is considered to be the place where Muhammad travelled to Jerusalem and ascended to heaven.
The site has been administered by an Islamic Waqf (trust), under the authority of Jordan, since the crusades, while Israel has controlled access to it since the occupation of East Jerusalem in 1967, also implementing a ban on all non-Muslim prayers as a security measure. Jews are also forbidden from displaying national symbols for fear of inciting tensions with Muslims.
Known as Temple Mount to Jews, it sits just above the Western Wall Plaza, where Jews are allowed to pray. It is considered the holiest site for Jews, as it is the place where God chose the Divine Presence to rest. According to scripture, it is where God gathered dust to create Adam, and also the location where Abraham tied up Isaac. It was also the place where Jews believe the First and Second Temples once stood. The Second Temple was destroyed by Romans in 70AD.
According to mainstream Judaism, Jews are forbidden from entering Temple Mount for fear they would stumble upon and profane the "Holy of Holies", or the inner sanctum of the Second Temple. This is also why the chief rabbinate has always opposed Jewish worship in the compound.
© Copyright IBTimes 2023. All rights reserved.