Jerusalem: Jewish woman arrested for calling Prophet Muhammad a 'pig' at al-Aqsa Mosque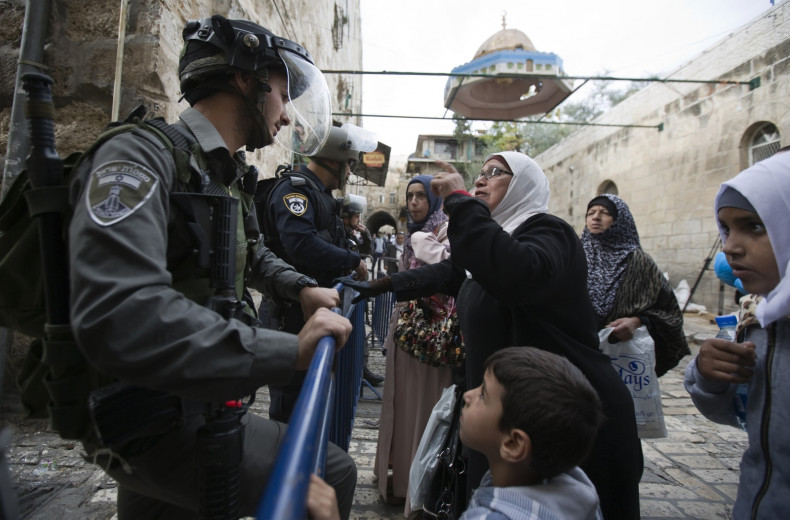 A 20-year-old woman was arrested by the Jerusalem District Police after she was allegedly heard shouting "Muhammad is a pig" in a video reportedly recorded at Temple Mount, one of the most important religious sites in the Old City of Jerusalem.
Avia Morris was arrested on Monday 27 July, upon arrival at the Western Wall and interrogated by police.
Police said such provocations would not be allowed as there was tension already brewing at Islam's third-holiest site when Israeli police clashed with stone-throwing Palestinians outside the al-Aqsa mosque known as Temple Mount to Jews.
Israeli soldiers entered the compound of Jerusalem's Old City, firing stun grenades as thousands of Muslims threw rocks and firebombs at them. On Thursday, 23 July, a near riot broke out between Jews and Muslims at the contested holy site, necessitating increased security.
However, Morris alleged that police stood-by when she and her group were being heckled by a Muslim mob, which led "her to insulting Prophet Muhammad".
The confrontation between the two groups was recorded by a witness and uploaded online after which it went viral, fuelling further tensions.
In the video, the two groups can be seen almost coming to blows.
Morris was ordered by the court to stay away from the Old City for "several days" and released, after which, she told Artuz Sheva: "I went up to the Temple Mount on Thursday, with women and babies... Throughout the walk, for about 40 minutes, we were surrounded by dozens of Arabs screaming at us and following us; they shouted 'slaughter the Jews' and 'Allah Akbar,' and made the Isis [Islamic State] gesture."
She also alleged that despite being surrounded by police, officers on the spot did nothing as the "Arab mob continued to threaten the Jewish group".
"The police ignored our requests and said if we were to say one word they would take us down from the Mount and arrest us. They did not stop their attempts to hurt our feelings and to try to insult Judaism." She said it was then that she insulted Prophet Muhammad, when the police took action.
"Only after we began to respond and I said 'Muhammad is a pig' [did] the police distance them from us. Suddenly they were able to keep them at bay," Morris added.