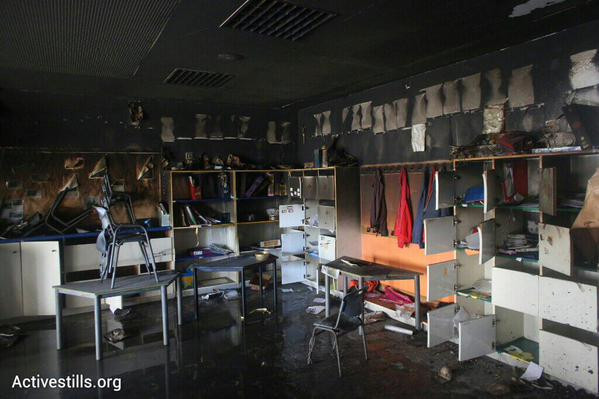 Jerusalem's Hebrew-Arabic bilingual school, which teaches more than 1,000 Arab and Jewish pupils from across the city, was allegedly set on fire in a suspected hate crime attack.
A preliminary police investigation uncovered signs that the fire was set intentionally from inside the school. Hebrew graffiti reading "Kahane was right", "Death to Arabs" and "There's no co-existing with cancer" were also sprayed on the building's walls.
Meir Kahane was a far-right rabbi, founder of the Jewish Defense League (JDL) in the US.
Founded in 1998, the Max Rayne Hand-in-Hand Jerusalem School is the country's largest Jewish-Arab institution, offering classes from pre-kindergarten to 12th grade (3 to 18-years-old).
As communal tensions increased between far-right Israelis and Palestinians in Jerusalem in the past months, the school was repeatedly targeted by Jewish hardliners, who defaced the school with racist graffiti against Arabs on its walls.
Jerusalem Mayor Nir Barkat condemned the attack saying that "pyromaniacs and those who disturb order cannot take the law into their own hand to disrupt the routine of our lives". Firefighters quickly brought the fire under control.
Hand-in-Hand executive director Shuli Dichter said: "Even if they manage to dirty the school's walls, they will not manage to bring down our enterprise.
"In addition to denouncing [these actions] expressing support, we invite the entire Israeli public to join us in the building of Jewish-Arab civil partnership in Israel," Dichter continued. "We will continue to develop our educational and social project, where every day 1,200 students come to study, some 200 teachers come to teach, and in which thousands of family members are involved."
Left-wing Meretz party called the incident a "direct result of the nation-state bill that gives legitimacy to damaging the fabric of relations between Jews and Arabs".
The controversial Jewish state bill, which defines Israel as the "nation-state of the Jewish people" and is being discussed in the Knesset, has been strongly sponsored by Israeli prime minister Netanyahu, who said it is key to protecting Israel's identity against its enemies. But critics accuse Netanyahu of pandering to the hardcore nationalists in his coalition and argue that the legislation will make the Israeli state less democratic and more racist.
The Israeli-Arab Balad party called the arson attack "an act of terror" and accused Israeli authorities of failing to hold accountable right-wing Jewish extremists for the so-called "price-tag attacks".
"Price-tag" is a term used by Jewish settlers to describe attacks – usually carried out against Palestinians but also targeting Christian churches and Israeli Arabs – in retribution or punishment for the Israeli government's actions perceived as pro-Palestinian.
The attacks are aimed at exacting "a price" for government actions, such as demolishing settlements.
Rioting became a daily occurrence in Jerusalem since the brutal killing of a Palestinian teen in July. The burnt body of Mohammed Abu Khdeir, 16, was found in a Jerusalem wood, allegedly in retaliation against the kidnapping and killing of three Israeli teenagers on the West Bank.
Religious tensions in Jerusalem have been reignited over a row over its holiest site, the Haram al-Sharif (The Noble Sanctuary) compound, known to Jews as Temple Mount.
A convicted members of the Islamic Jihad shot and wounded Yehuda Glick, a far-right settler rabbi who lobbied for greater Jewish access to Temple Mount. Glick was shot as he was leaving a conference at the Menachem Begin Heritage Center on lifting the ban on Jewish prayer at the hilltop compound.
In the latest attack, two Palestinian cousins stormed a synagogue in the ultra-Orthodox Har Nof neighbourhood slaughtering worshippers with a gun and an axe. Four Israelis were killed, six wounded.