Jerusalem Price Tag Vandals Spray 'Jesus is a Bastard' Graffiti at Christian Sites after Mosque Attack
Jewish settlers daub graffiti on walls of Al-Asqa Mosque in escalation of 'retribution' attacks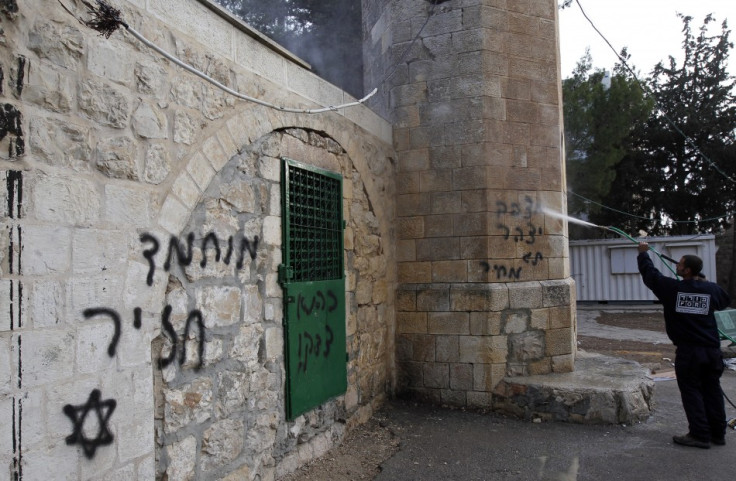 Clashes between Muslim worshippers and Jewish settlers have erupted in Jerusalem after a group of "price tag" settlers broke into the Al-Aqsa mosque.
Middle East Monitor reported that more than 70 Jews attacked the mosque, performing Talmudic rituals and writing racist graffiti on the walls.
The incident followed the targeting of the Greek Orthodox Church Monastery of the Cross and the Armenian cemetery in the city in which extremist graffiti was sprayed on walls and property and car tyres were slashed.
Police spokeswoman Luba Samri said that graffiti insulting Jesus Christ was sprayed on the gates of the entrance of the cemetery and in and around the monastery. "Jesus is a bastard" "price-tag" and "Happy Hanukkah", the Jewish holiday, were painted on a car.
"I forgave them the first time, I will forgive them the second time. I will forgive them the seventh, and the 75<sup>th, the 77<sup>th time I forgive," Father Claudio, the monastery's abbot, told reporters.
He added that if the vandals had knocked on the door, he would have invited them in for tea and talks about faith.
"This person needs to write outside - okay. But he needs to come inside the monastery. Sit with me, drink one coffee, and I will explain to him why I believe in Jesus and why that is my freedom [to believe]," Father Claudio said.
"He needs to come face to face. And I will tell him 'welcome.' Let's sit and speak. This is the heart of religion. I say to these people 'Hanukkah Sameach' [Happy Hanukkah]."
Prime Minister Benjamin said he was disgusted by the price-tagging.
"The Jewish values by which we were raised, and by which we raise our children, firmly reject such actions," he said.
"Freedom of worship for all religions in Israel will be preserved and we will take legal action against the immoral people who committed these crimes."
In September, right-wing pro-settler Jewish extremists daubed "Jesus is a monkey" on the walls of a Jerusalem monastery.
Price tag operations are usually committed against Palestinians in retribution for actions by the Israeli government perceived as anti-settler.
Initially carried out in retaliation for state moves to dismantle unauthorised settler outposts, they have become increasingly unrelated to any specific government measures.
The Islamic-Christian Commission for Protecting Jerusalem and Holy Sites condemned the settlers' attacks on Islamic and Christian sites.
"Such holy places have special sanctity," said the commission, "and this must be respected and protected from all kinds of aggression."
© Copyright IBTimes 2023. All rights reserved.