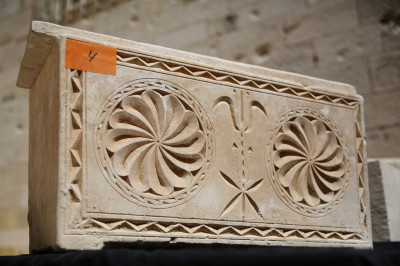 Israeli authorities have recovered 11 ancient burial boxes dating back to the time of Jesus, after a raid at the weekend of Jerusalem-based antiquities dealers suspected of stealing the artefacts.
The 2,000-year-old burial boxes, known as ossuaries, date back to the Second Temple period in Jewish history from 530 BC to 70 AD, according to AP.
Estimated to be worth thousands of dollars, the boxes contain bone fragments and remnants of pottery that was buried with the deceased and according to experts, originate from within a two kilometre radius of Jerusalem.
At the time, Jewish burial practices consisted of laying out the deceased in a cave for one year after they passed away. After that period, the bones would be gathered up and stored in special burial boxes as a space-saving measure, due to the difficulty of building tombs in Jerusalem's hard bedrock.
According to Israel's Antiquities Authority, last Friday, after midnight the police observed two cars parked suspiciously at a military checkpoint on the outskirts of Jerusalem. They discovered four people in the midst of exchanging four of the burial boxes.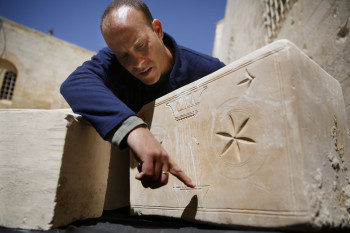 The Antiquities Authority is already in possession of 1,000 of these boxes, but each box is unique.
"We can learn from each ossuary about a different aspect of language, art and burial practice," said the authority's deputy director, Eitan Klein, who also heads the Antiquities Theft Prevention Unit. "And we can learn about the soul of the person."
Two of the boxes are inscribed with the names "Yoezer" and "Ralphine" in Hebrew.
Ossuaries came into fashion during the 2nd century BC due to influence from Greeks and Romans. They were used primarily to store the remains of the people who could afford them at the time – namely aristocrats, businessmen and rabbis.
Forgery allegations are often made over burial boxes and their inscriptions, such as an allegation made about an ossuary which was inscribed with a reference to Jesus Christ. After a 10-year investigation that ended in 2012, no one was convicted of forgery.
Klein is quite sure that the 11 boxes are not fake though, given their contents and engravings.
"These ossuaries are authentic," he said. "Everything here smells authentic."