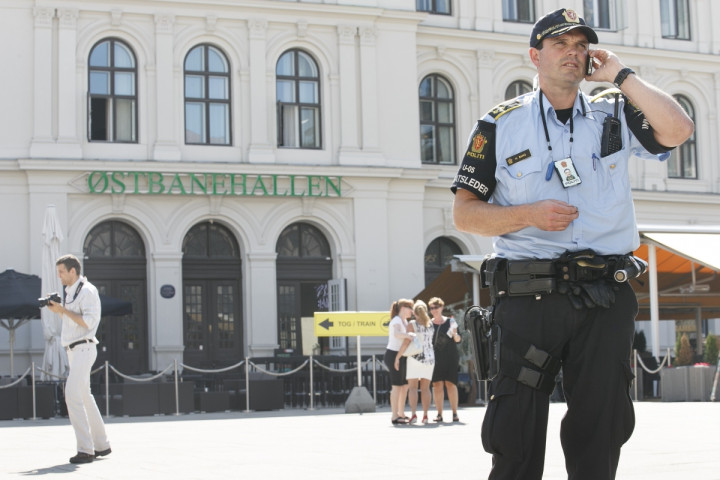 Jewish Museums in Norway and airspace over Bergen were closed after warnings of a terror attack by militants returning from the conflict in Syria.
Today, Norway's prime minister Erna Solberg, while attending the Norway Cup football tournament, said that Norwegians ought to continue as normal, three days after Norway's secret service, the PST, issued the warning.
"The terrorists want to create anxiety and fear," she told reporters at the Norway Cup soccer tournament near Oslo today. "The best we can do is stand together and not let it affect us."
Police have stepped up their presence at the tournament, where about 1,500 youth teams compete. Ten teams have pulled out altogether over security fears.
Officers are also posted at key buildings and shopping centres throughout the capital, police told Bloomberg.
On Saturday, the airspace over the country's second largest city, Bergen, was partly closed, and passport border checks tightened.
Under the ban, small private aircraft are not allowed to fly over the city centre.
The Jewish museum in Trondheim has been closed indefinitely, and the Jewish museum in Oslo until Tuesday.
Jon Fitje Hoffmann, a director of PST, told radio broadcaster NRK yesterday that police were investigating whether 15 residents of the country known to have fought in the three-year-old Syrian civil war had been in contact with combatants planning to commit terror attacks.
Approximately 50 Norwegians have left to country to fight in Syria, and about half are believed to have returned to the country, spokesman Trond Hugubakken said on July 24.
In May, Franco-Algerian Mehdi Nemmouche shot dead two Israeli tourists, a French woman and a staff member at a Jewish Museum in Brussels, Belgium.
It is the first European terror attack committed by a militant who had fought in Syria.
Valther Hansen, a senior adviser at the Norwegian Institute of International Affairs, said in an interview with Aftenposten that Norway may be a target after backing the US in Afghanistan and Libya.