Murdered TV presenter Jill Dando's colleague Alice Beer has revealed that the pair received letters threatening them with rape and kidnapping, weeks before Dando's murder by a mystery assassin in London in 1999.
The letters, addressed to Dando and Beer at the BBC in the same handwriting, were passed on to the police before Dando's murder but were never followed up even after her slaying.
Beer, 49, who worked with Dando on Children in Need and the Holiday Programme, also said she and their colleague Anne Robinson were threatened by someone claiming to be a Serbian three days after the murder.
"There are a lot of questions I would like answering," Beer told the Sunday Mirror. "They've been at the back of my mind.
"I waited for a call from the police after Jill's death – but it never came. Nobody spoke to me about the threat.
"Nobody questioned anything. If no stone were left unturned in that investigation then I would have been called."
Dando was shot on the doorstep of her Fulham home on 26 April 1999. In 2001 convicted sex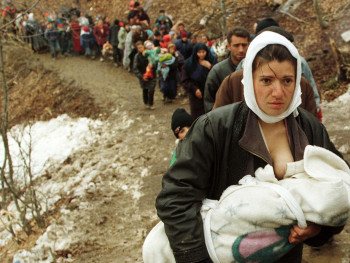 In 2001 sex offender Barry George was convicted of her murder and served eight years in prison. His conviction was overturned in what legal experts describe as one of the biggest travesties of justice in UK history.
A number of theories have been put forward over who would want to kill the much-loved presenter.
One theory is that she was targeted by a Serbian paramilitary for fronting a TV appeal for aid for Kosovo-Albanian refugees of the 1998-99 Kosovo War.
Beer, now a presenter on ITV's This Morning, says three days after Dando's murder someone with a mid-European accent called the BBC and said: "From Serbia, going to kill Anne Robinson, Alice Beer and two others."
The call was traced to a phone box in Gerrards Cross, in Buckinghamshire, but the caller never identified.
Beer says she still can't understand who would have wanted to kill Dando, but that it bore all the hallmarks of a professional assassination.
"If Barry George didn't kill Jill, then somebody else did," she says. "And of course that person needs to be found guilty.
"There were links that weren't followed up which we questioned but we probably just thought that they had their man. They obviously didn't.
"Everyone who knew Jill, loved Jill, wants to know – who really did kill Jill Dando?"