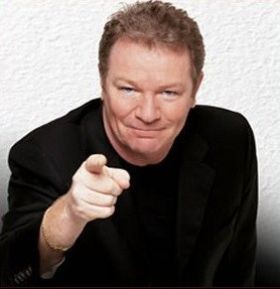 Jim Davidson has been arrested on suspicion of sexual offences as part of Operation Yewtree, the police investigation into the Jimmy Savile abuse claims.
The 59-year-old comedian was arrested at Heathrow Airport after arriving back in the UK to take part in the upcoming series of Celebrity Big Brother, which begins tonight.
He was then taken to a police station in west London before being released on bail, and ordered to return in March.
Following the arrest, officers entered Davidson's home in Hampshire on Wednesday afternoon with plastic evidence bags, according to a local news agency.
Davidson, who has previously presented programmes such as Big Break and The Generation Game, falls under the "Others" category of the Yewtree inquiry - meaning the allegations against him are not directly connected with Savile.
It is reported that Davidson will not now appear in Celebrity Big Brother as planned.
The suspect's lawyer, Henri Bradman, maintained his client's innocence, saying: "Two women have made allegations in respect of Jim that date back approximately 25 years. The complainants were then in their mid 20s.
"Jim vigorously denies the allegations. He answered police questions as fully as he was able after this passage of time.
"He has not been charged with any offence. Neither he nor I will be making any further comment."
'Witch-hunt'
After the original ITV documentary exposed Savile's paedophilia, Davidson said it had turned into a witch-hunt.
Writing on his blog, he said: "The Savile witch-hunt is going a bit silly now. We all are starting to speculate and accuse ... even in jest.
"I don't know who's next. Well, if I was in the pub with the lads it would be a different story.
"Everyone has had the nod. Everyone is an expert. Just pick someone you don't like and say it's them.
"I read a thing where someone saw Jimmy Savile pinch some girl's bum.
"Apparently, that's ­sexual assault. Where will all this end? As odd as he was, Savile can't defend himself. The bloke's dead for God's sake. Let's move on."
Davidson subsequently appeared on TV to defend himself after a friend jokingly told him that he had been named in the Savile investigation.
Davidson said: "My a*se hit the floor and came back up. And instantly in that second of feeling sick I was frantically trying to work out damage limitation exercises, trying to work out if there was anyone under the age of 40 I've s*****d in the last 20 years. I instantly came to the idea there was none.
"I was 15 when I had my first s**g. That was the last girl I ever s*****d who was under the age of 16. I was 15. I was only a little kid. So the thought was, 'That's allowed'."