Jimmy Savile Sexually Abused Victims During Final Top of the Pops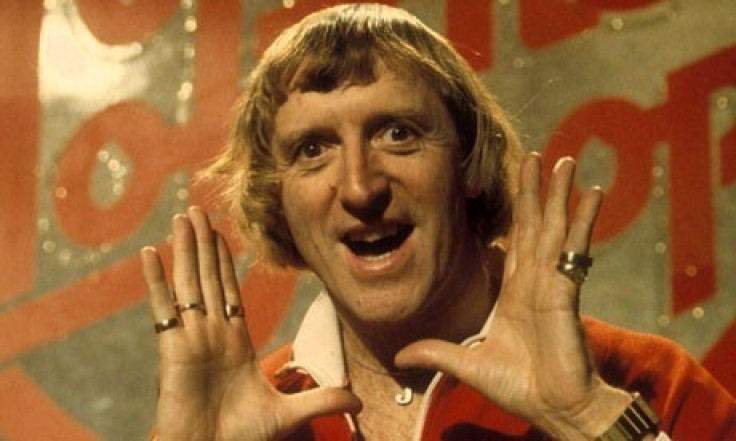 The Metropolitan Police and NSPCC have released a report revealing the scale and extent of sexual abuse committed by Jimmy Savile.
The report, Giving Victims a Voice, described Savile as a "prolific, predatory sex offender" whose scale of abuse was "unprecedented in the UK".
The report reveals there are 214 recorded criminal offences lodged against Savile across 28 police force areas, including 34 cases of rape and 126 indecent assaults.
The earliest reported incident was in 1955 in Manchester and the final reported offence was in 2009. The peak offending took place at the height of Savile's fame between 1966 and 76 when he was between 40 and 50 years old.
Seventy-three percent of the incidents of abuse were against those aged under 18. Of those, 82 percent were female. A majority of these (63 percent) were in the 13-16 age group. Of his male victims, 25 percent of them were aged 13 and under.
The allegations against the DJ and television presenter, who died in 2011, also include one against an eight-year-old boy - the youngest alleged victim - and reports of offences at the BBC between 1965 and 2006, including at the final recording of Top of the Pops in 2006.
A BBC spokesperson said: "The police report into Jimmy Savile contains shocking revelations. As we have made clear, the BBC is appalled that some of the offences were committed on its premises. We would like to restate our sincere apology to the victims of these crimes".
The findings in the 30-page report also reveal Savile committed sexual offences at 13 hospitals, including 16 offences at Leeds General - where he volunteered as a porter - and 22 at Stoke Mandeville.
The report said the late DJ was able to "hide in plain sight" through his celebrity status to abuse children and adults for six decades.
The publishing of the report has been described as a "watershed moment" for child protection.
Since the launch of Operation Yewtree, three months of investigating claims of sexual abuse by Savile and "others" approximately 600 people have come forward provide information. About 450 cases refer to Savile.
The report says how the findings paint a "compelling picture of widespread sexual abuse by a predatory sex offender".
It is hoped this report will be a benchmark moment into how future sexual abuse cases are investigated and criticised the previous handling of the allegations.
It adds: "It is now clear that Savile was hiding in plain sight and using his celebrity status and fundraising activity to gain uncontrolled access to vulnerable people across six decades.
"For a variety of reasons the vast majority of his victims did not feel they could speak out and it's apparent that some of the small number who did had their accounts dismissed by those in authority including parents and carers."
Opportunistic individual's celebrity status
Det Supt David Gray, lead investigator for Operation Yewtree, said: "The details provided by the victims of his abuse paint the picture of a mainly opportunistic individual who used his celebrity status as a powerful tool to coerce or control them, preying on the vulnerable or starstruck for his sexual gratification."
Cmdr Peter Spindler, head of the MPS Specialist Crime Investigations, describes Savile's offending as "vast, predatory and opportunistic".
He added: "We must use the learning from these shocking events to prevent other children and vulnerable adults being abused in the future. They will get a voice."
Peter Watt, NSPCC director of child protection advice and awareness, said of the report: "The sheer scale of Savile's abuse over six decades simply beggars belief. He is without doubt one of the most prolific sex offenders we have ever come across and every number represents a victim that will never get justice now he is dead. But with this report we can at least show his victims that they have been taken seriously and their suffering has been recognised.
"We are optimistic that this signals a watershed moment for child protection in this country. We must seize the opportunity if we are to make a lasting change."
The report concludes: "Institutions and agencies that may have missed past opportunities to stop Savile's activities - and organisations where similar sexual abuse could be going on undetected - must now do all they can to make their procedures for safeguarding children and vulnerable adults as robust and rigorous as possible.
"Only then can the victims who have come forward be reassured that it is unlikely to happen again.
"Perhaps the most important learning from this appalling case is in relation to the children and adults who spoke out about Jimmy Savile at the time.
"Too often they were not taken seriously. We must not allow this to happen again - those who come forward must be given a voice and swift action taken to verify accounts of abuse."
Jimmy Savile Scandal: Prosecutors 'Refused to Take Claims Seriously'
© Copyright IBTimes 2023. All rights reserved.