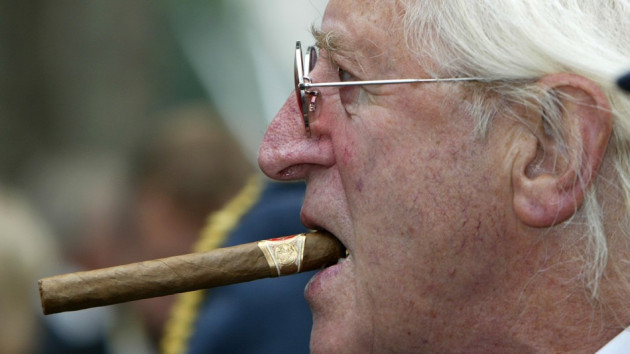 Jimmy Savile was regularly handed keys to private rooms at a Leeds hospital when he arrived with teenage girls in the early hours of the morning, according to a former porter.
Terry Pratt has alleged the former Jim'll Fix It presenter would be handed the keys to bedrooms reserved for surgeons and nurses at Leeds general infirmary, where he volunteered during the 1980s.
Pratt added that he witnessed Savile bringing teenage girls "one on each arm" to the hospital in the early hours and leave before dawn.
Police are currently investigating claims the late BBC presenter abused around 300 young people.
Pratt told the Guardian: "He would come in about 1am or 2am because there were bedrooms up there and he could get out of the way.
"He would say 'hello' to the shift leader, 'can I go in the nurses rooms again?' He would come about two times a week, say on a Monday and again on a Thursday.
"It was debatable whether the girls were 16, They were definitely in their teens."
Savile was a regular visitor and volunteer at the hospital and had a home just three miles away. He has been accused of preying on vulnerable patients.
Former nurse June Thornton claims she saw Savile molesting a brain-damaged girl at Leeds General Infirmary while she was recovering from an operation.
She told Sky News: "He started kissing her neck, running his hands up and down her arms, and then started to molest her. Because I was laid flat on my back, there was nothing I could do."
Leeds Teaching Hospitals NHS Trust said it continues to be shocked at each new allegation regarding Savile, but vowed to help police with any inquiries.
A spokesman for the trust added: "We have already made it clear we do not have any record of complaints about Jimmy Savile's behaviour made during the time he was a volunteer and charity supporter at Leeds general infirmary or at any of our other hospitals."
Former Broadmoor Hospital patient Steven George previously claimed Savile had his own keys to the hospital and a private room in the 1970s.
The Metropolitan Police are investigating 400 lines of inquiry into claims the former Top of the Pops presenter abused 300 children and young people over a period of six decades.