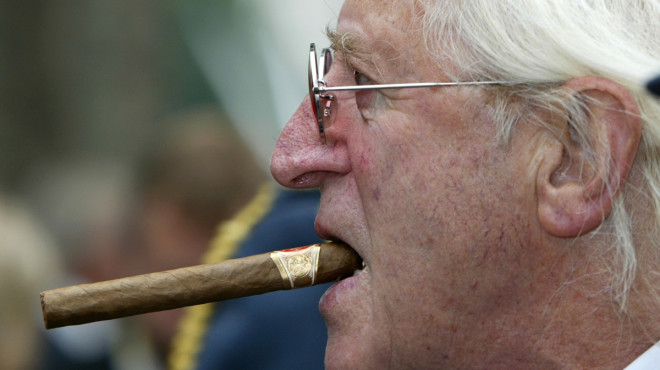 The penthouse flat in Leeds once owned by serial sex predator Jimmy Savile has been bought for the second time in a year. In 2013 Malcolm and Angela Statman purchased the property in Lake View Court, an affluent suburb overlooking Roundhay Park for £250,000, intending to knock it down and rebuild it from scratch.
Instead they have now sold the three-bedroomed property to another couple for £300,000, £50,000 less than they'd hoped to receive and far short of the £500,000 a flat of its type and location could normally expect to fetch. This "low" price is due to a combination of factors, including the flat's poor state of repair and its garish interior, though it's possible potential buyers are put off less by the pink and black kitchen than by the reputation of its former owner.
Savile is believed to have abused hundreds of young girls and boys as young as five over several decades as a DJ and television personality. During his lifetime there were a number of allegations and rumours in circulation about his proclivities but he was never charged. Each week he held meetings with local police inside the penthouse – the so-called "Friday morning club".
Since Savile's death in 2011 many people have come forward to say they were abused by the celebrity, leading to a series of major crises at the BBC and several linked investigations. Dame Janet Smith, who is investigating Savile's activities, believes he may have abused up to 1,000 children on BBC property alone. He is also believed to have abused young patients in hospitals to which he had access.
Last week a High Court judge approved a scheme drawn up by executors and lawyers that would enable victims to seek compensation from Savile's estimated £4m estate.
Liz Dux, of law firm Slater & Gordon, which is representing some of the alleged victims, said: "This is a great result for the victims of Jimmy Savile. The ratification of the scheme should allow the quickest possible closure to this horrific affair for those who were abused."