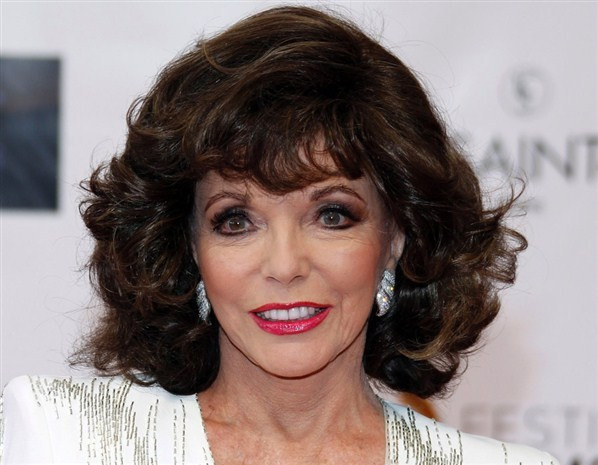 Hollywood veteran Joan Collins has told the world about the moment she was drugged and raped by late actor Maxwell Reed - the man she later married.
The actress opened up about the horrific incident in Brave Miss World, a new documentary produced by former Miss World winner Linor Abargil, to raise awareness of sexual violence.
In 1998, Israel-native Abargil was stabbed and sexually assaulted six weeks before taking the crown at the competition. She is now hoping the show will encourage other victims to seek help.
Discussing her own harrowing ordeal, Collins admitted that she was a naive virgin at the time.
"I was raped when I was seventeen years old," the 81-year-old star said.
The Dynasty star said the attack occurred when she was just starting out in the industry after graduating from Rada. During one of their dates Reed said that he needed to take a bath before leaving her with a rum and coke and some questionable literature.
"The books were porn, which I'd never seen before. Hardcore porn," Collins revealed in the documentary.
"The next thing I knew, I was out flat on the sofa in that living room and he was raping me. And what he had given me was a drug. He had drugged my drink.
"It was what was called in those days a Mickey Finn. Which I think today would be Rohypnol. It felt so horrible. That I... That I'd done this thing."
Collins previously spoke of rape in her memoir, The World According to Joan, where she also asserts that she was only married Reed because she was plagued with guilt following the incident.
"It wasn't my fault but I didn't know, I went out with him. And maybe I shouldn't have gone out with him. He was much older than me, and he was a famous star," she said.
"And anyway the bottom line is that he called me, and I went out with him again. And after I'd been going out with him for a few months, he asked me to marry him.
"And I thought 'Well I better [had marry him] because you know, he took my virginity.' I really hated him, but I was so filled with guilt, that he had done this thing to me."
Collins' emotional admission comes as allegations of sexual assault against Bill Cosby continue to mount.
Although the comic has yet to comment on the allegations, made by 16 women, major TV networks have cancelled The Cosby Show reruns, and his scheduled appearance on CBS' Late Show with David Letterman was cancelled.