The outlandish but much-loved TV host and US comedienne Joan Rivers has died after suffering a cardiac arrest during throat surgery.
The death of the flamboyant star, who had been on life support for a week before passing on 1.17pm on Wednesday surrounded by family and close friends at Mount Sinai Hospital, has prompted an outpouring of tributes across the globe.
Born and raised in Brooklyn, New York, the veteran comic received her big break in 1965, when she appeared on The Tonight Show starring Johnny Carson. From that show she began hosting her own programme, That Show with Joan Rivers, for which she won a Daytime Emmy for Outstanding Talk Show Host.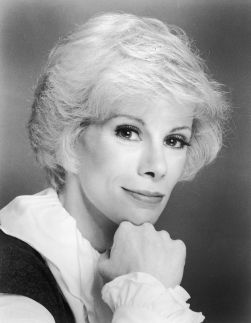 Rivers was born Joan Alexandra Molinsky, the daughter of Russian Jewish immigrants Beatrice and Meyer Molinsky. She was raised in Brooklyn, New York, with her older sister Barbara, who died on 3 June, 2013, aged 82.
When Joan announced to her father, a doctor, that she wanted to become a comedienne, he threatened to have her committed.
"I came from a very upwardly mobile, education-orientated family," she says. "When I said I wanted to be an actress, my father was very upset."
The 'Queen of Mean' attended Connecticut College between 1950 and 1952 before she was selected for membership in Phi Beta Kappa, the country's oldest and prestigious academic honour society, while studying for a bachelor of arts degree in English literature and anthropology at Barnard College in 1954.
Before she became famous she was penniless working on the New York comedy circuit, in the early 1960s, joining the likes of Woody Allen and Lenny Bruce. She also played a lesbian in the play Driftwood alongside the then-unknown Barbra Streisand.
She later admitted "I never knew I had a gift, I knew I wanted to be in the business. Making money never entered into it, ever. Now I think of money every day."
The gregarious star went on to appear in various television comedy and variety shows in the sixties turning her hand to writing and directing in the film Rabbit Test, starring her friend Billy Crystal. Her other film credits include Look Who's Talking, Shrek 2, and Iron Man 3.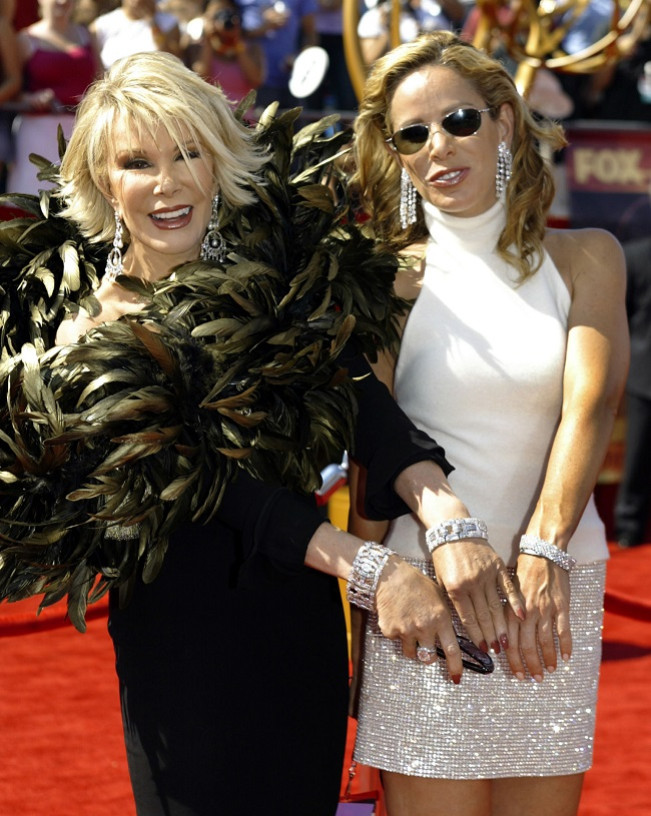 In the 1980s she went on to release her best-selling comedy album, What Becomes a Semi-Legend Most? which was nominated for a Grammy Award for Best Comedy Album.
During this period she was also a regular guest host on Johnny Carson's Tonight Show, but their relationship turned sour when she launched her rival programme The Late Show Starring Joan Rivers. She later admitted she should have asked for his blessing before taking the job. Carson, who was her longtime mentor, never spoke to her again. She was banned from the show, until she was invited back in February of this year by new host, Jimmy Fallon.
Tragedy
The Late Show, however, ended in tragedy when Fox executives wanted to fire her husband Edgar Rosenberg, who was the show's producer. When Rivers challenged the network it ended up sacking them both. Rosenberg committed suicide three months later at the age of 62. Rivers never got over his death which she reportedly blamed on the "humiliation" by Fox and also on her own decision to leave their marriage after reportedly not being happy.
The night he died Joan was having liposuction and told the Daily Mail in 2007: "It was one of the major knocks of my life, and also the cause of one of my emotional growth spurts. I learned that I could be on my own and have a new way of life. But the guilt never goes."
Despite her pain she used his death as part of her comedy act three months later in Las Vegas, joking: "Thank God my husband said in his will that I should cremate him and then scatter his ashes in Neiman Marcus (a department store). That way he knew he would see me five times a week."
Although it led to a temporary rift with her daughter Melissa, who she had with Rosenberg, Joan later explained why she made a joke out of his death by saying: "I laugh at everything. It is all about laughing at the worst."
Rosenberg was her second husband. She married James Sanger in 1955, but ended the marriage shortly after when he admitted he did not want children.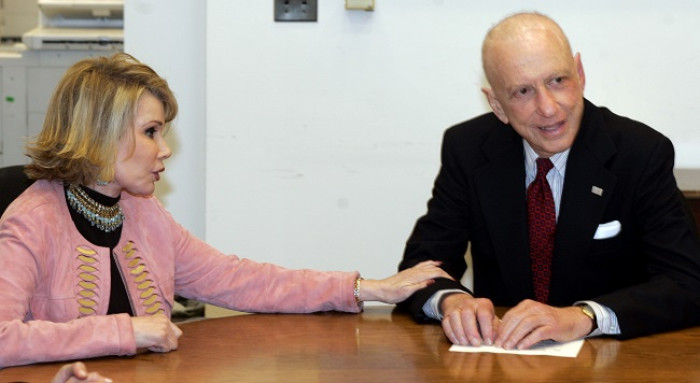 Rivers continued to be much sought-after in the world of entertainment until her eighties, writing countless books, such as I Hate Everyone… Starting with Me and Diary of a Mad Diva, as well as fronting many successful TV shows such as How'd You Get So Rich?, Celebrity Apprentice, and most recently co-hosting E! TV show Fashion Police with Kelly Osborne.
Continually upfront with her plastic surgery, she once said: "My motto is 'better a new face coming out of an old car than an old face coming out of a new car'. Spend your money on you."
Love her or hate her, her cutting wit and strong opinions on life that many of us too afraid to say distinguished her from the masses, and now leaves a gaping hole in the world of showbusiness and entertainment.
Joan Rivers died after she suffered cardiac arrest during throat surgery at Mount Sinai Hospital. She was placed on life support, after being put into a medically induced coma.
She leaves her daughter Melissa, 46, and grandson Cooper, 13.
Joan Rivers born on 8 June, 1933, died 4 September 2014