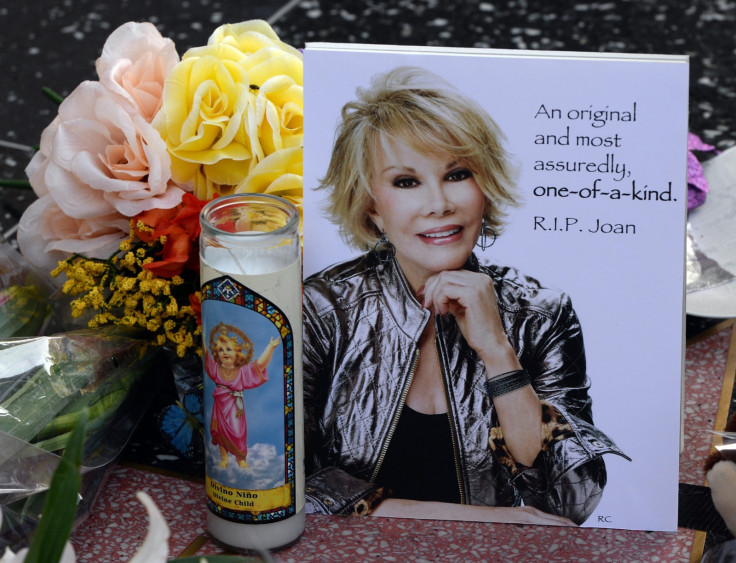 Celebrities around the world are wishing Merry Christmas to their fans. But, Joan Rivers' holiday wish from the grave has confused many. The late comedian started trending after she shared a Christmas greetings on 25 December to her 1.5 million followers on her official Twitter account.
River, who died in September 2014 at the age of 81, shared a picture of her standing next to a Christmas tree wearing a black dress and coat. Although the former Fashion Police host is no more her account is very much active. All the tweets from her account start with "From @MelRivers" prompting fans to assume that the late comedian's daughter Melissa Rivers is operating the account.
However, this particular Christmas wish the mystery of the tweet generated hilarious memes and one-liner. "To end 2016 Joan Rivers comes back from the dead to celebrate Christmas," one fan wrote. "I'll never forget Joan Rivers coming back from the dead to wish her twitter followers a merry Christmas," wrote another.
One confused fan could not handle the tweet and wrote: "wait isn't Joan Rivers dead why did she tweet GOOD LORD."
The TV star was admitted to Yorkville Endoscopy on 28 August 2014, for a routine throat operation but she stopped breathing and suffered cardiac arrest during the procedure. She was then transferred to Mount Sinai Hospital where she died a week later.
Below are some funny memes in reaction to Rivers' tweet.