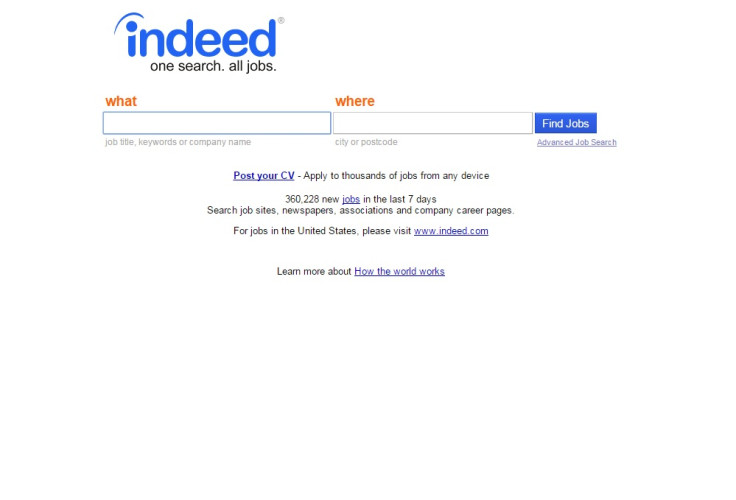 The world's most popular jobs site Indeed.com plans to double its workforce in Europe by the end of 2015 as part of a "substantial" recruitment drive.
Paul D'Arcy, a senior vice president at the website, told IBTimes UK that he expects the company's headcount across the region to grow from around 250 to up to 500 by the end of year.
"We are continually expanding across Europe. We have offices in London, in Dublin, in Dusseldorf and Amsterdam. All of those offices are growing substantially," he said.
"We expect to add a significant number of employees in all of those locations over the next year."
The comments come after Indeed.com announced it would hire 300 workers near its headquarters in Austin, Texas.
The job-listings site, which was founded in 2004, operates in 55 countries and boasts more than 150 million unique visitors every month.
The site is the most popular career resources category on the web, according to comScore.
The company recently launched its "How the World Works" marketing campaign – the site's first ever global promotion.
D'Arcy said the business made "significant" investments in marketing to "more aggressively" get the message out.
"We've seen very, very strong results from those investments. Our goal of doing that sort of marketing is to help people understand the role that Indeed.com plays," he explained.
"We've seen that awareness for Indeed.com has increased by more than 70% in the UK since the launch of the campaign and we have more than doubled awareness among employers."
D'Arcy's comments were part of a wide-ranging interview with IBTimes UK, which will be published on 16 January.