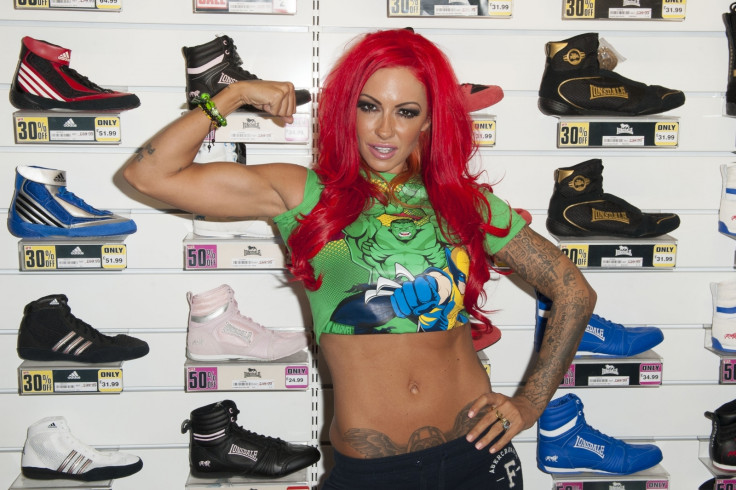 Jodie Marsh decided to celebrate her 39th birthday by treating her fans with a racy selfie at the gym. And it was definitely a treat! The model took to Instagram to post a nude photo of herself in front of a mirror in the gym, with strategically placed weights covering her modesty.
Flaunting her many tattoos and leaving her candyfloss-coloured hair open, Marsh just wore her thigh-high pink socks, which matched the shade of her hair. "It's my birthday, so here's a photo of me in my birthday suit," she captioned the saucy snap.
Not surprisingly, fans of the former Celebrity Big Brother star went gaga over her racy photo. One user complimented her by saying, "Happy Birthday. You don't look a day over 25," while another noted, "Looks like Christmas came early this year."
One of her 448,000 followers wrote, "You look amazing Jodie, hope ur having a fantastic b'day." Someone else cheekily said, "Absolutely stunning. I've got your present here Jodie."
"Damn! Hope you had a great birthday. Fancy posting this again when it's my birthday," another fan commented.
Marsh recently reignited her long-running feud with Katie Price on Twitter. The model famously fell out with Price in the early '90s over her modelling career and men.
Price has been feuding with Love Island's Chris Hughes over a series of "flirty texts", and Marsh couldn't help but join in the drama.
Responding to a tweet by Hughes, wherein he refused to back down for revealing the alleged texts from Price, Marsh wrote, "We have needed someone to tell the truth for years. Well done that man!!!!!! Threatening to destroy his career? Evil...
"All we need now is for a load of others to have the balls to tell the truth about what certain people are REALLY like..." she continued.
"Failing that, I'll write a book and call it a novel. You wanna know what really goes on in showbiz?! God, the stories I could tell...," Marsh concluded.