Joel Campbell hails Arsenal's 'intelligent' counter-attacking style in win over Manchester City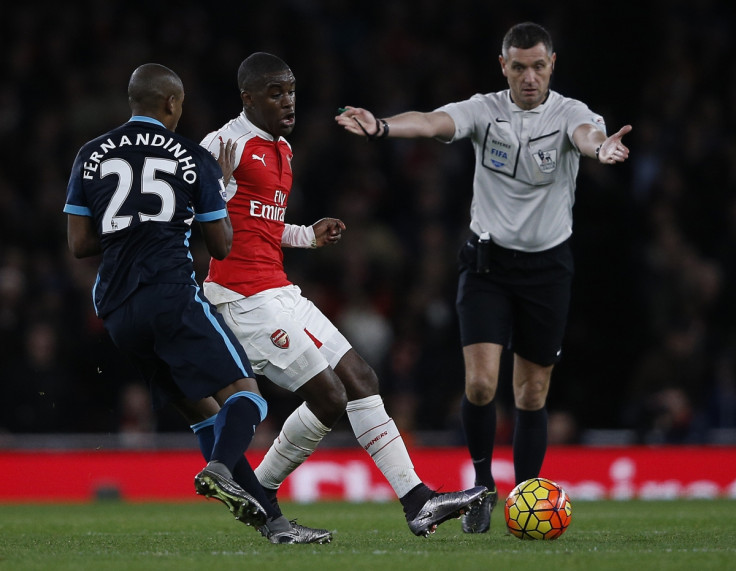 Joel Campbell has hailed Arsenal's switch to a counter-attacking style to beat Manchester City 2-1 on 21 December as the Gunners were aware the game required an "intelligent" performance. The Costa Rica international believes the victory was a big boost on their way to securing the Premier League crown but insists his side go "step-by-step" as it was still too soon to talk about clinching the title.
Arsene Wenger decided to allow Manuel Pellegrini's side the majority of possession from the very beginning of the game, settling for a defensive formation but utilising the pace of his strikers in swift counter-attacks. The home side enjoyed only 37% of possession but eventually secured three crucial points in their battle for the Premier League thanks to first-half goals from Theo Walcott and Olivier Giroud.
The Gunners have also employed a similar formation in the victory over Bayern Munich earlier in the season and at the Eithad Stadium in January when they secured an impressive 2-0 victory.
Will the Gunners be using the same tactic against the big teams and in the Champions League tie against Barcelona? Campbell told IBTimes UK: "There are games that you have to be intelligent.
"We know the capacity of Manchester City. We could not give them spaces. We try to close gaps and to counter-attack with our forwards. City are a great opponent but we know that in this league you can lose at any stadium. It's a very competitive league. We did a great job to win against a great opponent."
Speaking about the Barcelona tie, he said: "There is still enough time to think about the games against Barcelona. Now we have to enjoy the victory [against City] and we'll see how we do against Barcelona."
The victory leaves Manchester City four points behind the Gunners in the Premier League table while moving Arsenal within touching distance of leaders Leicester City ahead of the busy Christmas period.
Asked whether the win over City was a message to their rivals in the quest to win their first league title since 2004, Campbell said: "Every year Arsenal try to win the Premier League because we are a team born to achieve that, to fight for titles and this year will not be different.
"It was a great game, we got a good result and now we have to look forward, there is still a lot of work to do. This is a big step. We are in the fight for the Premier League title.

"We hope to continue this winning streak. We are closer to the leaders, who are currently Leicester, and we must respect them. They are a great team who have proved a lot this season. We go step-by-step.
"The Christmas period is going to be very competitive. There are four games in 10 days and after winning the first we hope to do the same in the coming three [against Southampton, Bournemouth and Newcastle]."
© Copyright IBTimes 2023. All rights reserved.