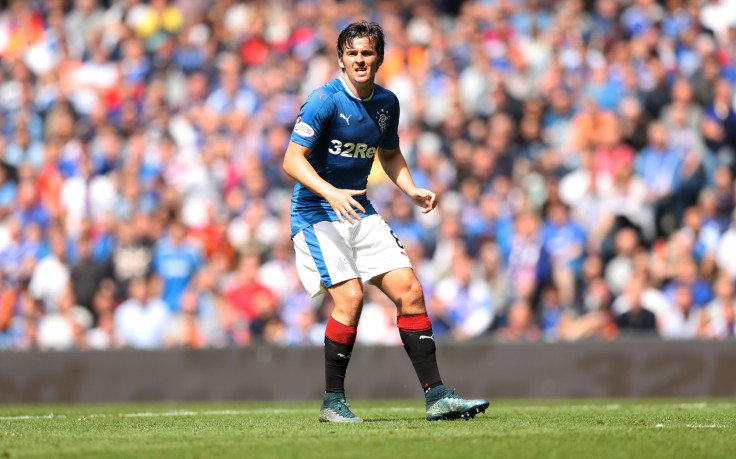 Rangers midfielder Joey Barton has been charged by the Scottish Football Association with gambling on matches. The outspoken 34-year-old has been accused by the governing body of placing as many as 44 bets between 1 July and 15 September this year.
The former Manchester City midfielder – who is currently serving a three-week suspension from the club following an internal disciplinary matter – has been given until 12 October to respond to the charge. Barton will then face a hearing regarding the charges on 27 October.
Under the Scottish FA's disciplinary rule 33, players, coaches, club officials and referees are banned from betting on games anywhere in the world.
In recent years, the SFA has handed bans to former Rangers players Ian Black and Steve Simonsen for betting on games, while Partick Thistle midfielder Steven Lawless was found to have breached the rules last year.
Barton joined Rangers from Burnley over the summer, but his brief time in Glasgow has already been blighted by controversy. He was banned from the club's training ground following a meeting with the club's manager, Mark Warburton, in September after they lost 5-1 to Celtic.
"We're asked for an opinion and I'm someone who gives an opinion," Barton told TalkSport . "Two passionate Rangers players have then shared opinions on how we get better as a team and what's going wrong for us. It's nothing more and nothing less than that.
"Obviously sometimes the way I communicate can be a bit blunt and a bit direct and it ruffles people's feathers, which I know I have to work at, but I don't apologise for trying to win. I care deeply about playing football."
Barton claimed the situation was blown out of all proportion. "The way it's been handled is strange. When you look at my history and you're told to stay away from the club, it does look like something more has happened, and that's why I've decided to get on the radio and speak, because it's wrong," said the midfielder, who won one England cap in 2007.