John Barnes: Arsenal will play to Liverpool's strengths in heavyweight Premier League clash
Reds legend spoke exclusively to IBTimes UK before Saturday's Anfield showdown.
Liverpool legend John Barnes has backed his former club to extend an impressive record against their main top-flight rivals when they face Arsenal on Saturday (4 March). Jurgen Klopp's side welcome the Gunners to Anfield searching for only their third victory across all competitions in 2017 after a dismal run that continued with a wretched post-La Manga training camp defeat at Leicester City and has seen the club go from title contenders to fighting just to stay relevant in the race for the top four.
While counter-attacking Liverpool have typically struggled to dispatch of so-called "lesser teams" this term, they have taken a very healthy 16 points from eight matches against fellow heavyweights competing in that top-six "mini-league". Such a streak includes a truly chaotic seven-goal opening weekend triumph at the Emirates Stadium back in August.
"The fact that we've not lost to Arsenal, Tottenham, Man City, Man United or Chelsea but lost at Leicester, Swansea, Bournemouth, Hull and Burnley is more to do with the way those teams play against us," former England winger Barnes, speaking on behalf of Bonus Code Bets, explained to IBTimes UK.
"Now when teams play against Liverpool who sit deep and defend in numbers, we find it difficult to break them down because if you look at the way Arsenal, Manchester City and Tottenham play, they attack us and leave a lot of space at the back and it's a very open game on the counter-attack.
"Liverpool are one of the best counter-attacking teams in the country because there is [Sadio] Mane, [Roberto] Firmino, [Philippe] Coutinho and [Adam] Lallana who have got space to run into so they break quickly. When you play the lesser teams, they defend deep, defend in numbers, let you have the ball and you've got to break through them without much space. And the only way to do that is to get the ball wide and get crosses in.
"Liverpool just can't score goals that way. Of course Manchester United can because of [Zlatan] Ibrahimovic. [Diego] Costa at Chelsea, [Olivier] Giroud at Arsenal, [Harry] Kane at Tottenham, they are good when crosses come into the box. We have to come up with a solution."
Pinpointing the reason behind that worrying slide, he added: "It's because of the nature of the teams we've played. To be honest I think we will beat Arsenal because Arsenal will play an open game and that's Liverpool's strength, on the counter-attack. We have to come up with a solution when we play against the lesser teams, because that's where we really have fallen down."
Klopp claimed after that woeful loss at the King Power Stadium that both him and the squad are playing for their respective futures amid a chronic lack of form. But could the charismatic German's job really be in jeopardy just 18 months after taking the reins?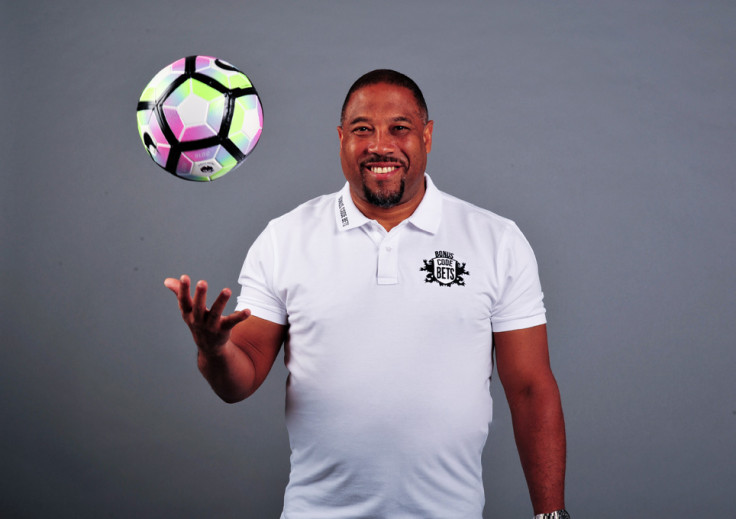 "Well I wouldn't think so at all, but who knows what happens in football," Barnes, who disputes Harry Redknapp's controversial theory that Liverpool are no better off now than they were two years ago under the guidance Brendan Rodgers, said. "Who thought [Claudio] Ranieri would have been sacked and who thought Chelsea would have sacked [Jose] Mourinho after winning the league? As far as I'm concerned, his job should not be in question. But you know what football's like, it's a crazy world."
Fifth-place Liverpool go into Saturday's meeting with Arsenal a point adrift of their opponents and one ahead of a Manchester United team that have only lost once since early November. Their impressive start to the campaign coupled with a lack of European commitments might lead many to believe that Klopp's side simply have no excuses for not securing a top-four berth, although Barnes does not think they should be considered as any sort of lock to finish there given the comparative strength of the big-spending teams around them.
"No excuses in terms of what? Because there are teams with better squads than them, so why should Liverpool finish in the top four? If you look at the squads that the other teams have, they are stronger than Liverpool. So it's not a question of excuse, it's a question of fighting, sticking together and having that belief that we can.
"We aren't favourites to be in the top four and we shouldn't be favourites to be in the top four. Because if you look at the nature of the squads and say do other teams have better squads than us, yes they do. But if we stick together and we have belief and support and trust the manager, then we will be fighting for a top-four finish.
"I didn't get carried away in November in thinking we were going to win the league and I'm not getting too despondent now. If we stay together, we'll have a good chance. The Premier League is such that teams are going to be dropping points left, right and centre. Not just Liverpool, but we've seen it at Arsenal and Tottenham. Manchester United are now coming on a run, so we have to keep the faith, keep believing and hopefully we can make it."
© Copyright IBTimes 2023. All rights reserved.