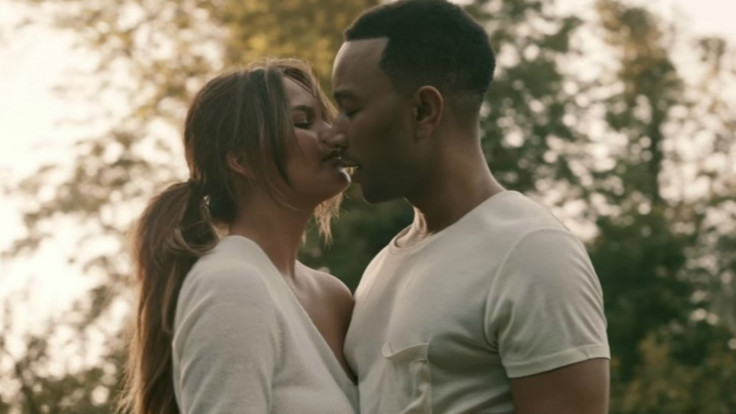 John Legend has injected a dose of love into the world following tensions sparked by the US presidential election result. The All Of Me singer premiered the music video for his new single Love Me Now on 11 November with his wife Chrissy Teigen and baby daughter Luna taking centre stage.
Directed by Nabil Elderkin, the stunning visuals feature scenes from various locations of unrest, including the Domiz refugee camp in Northern Iraq, the Standing Rock Reservation in North Dakota and Orlando, Florida, where a mass shooting took place at a gay nightclub in June 2016.
Legend, 37, is seen sharing warm embraces with his model wife Teigen, 30, while the couple lovingly smother their six-month-old daughter Luna with kisses.
The joyful family shots are interspersed with scenes of diverse groups of people uniting, including a same-sex couple observing a memorial for victims of the Pulse nightclub shooting in Orlando and an elderly couple dancing together in a field.
The powerful message of love and unity are also depicted in the lyrics as Legend croons: "I don't know who's gonna kiss you when I'm gone/ So I'm gonna love you now, like it's all I have/ I know it'll kill me when it's over, I don't want to think about, I want you to love me now."
After following a happy couple on their wedding day, the video ends with Teigen planting a tender kiss on Legend's forehead before displaying the message: "Thank you to everyone who shared their lives with us. Live now. Give now. Love now."
The premiere comes just hours after the All Of Me singer posted a heartfelt message on Instagram addressing the presidential election after Donald Trump was voted the 45th president of the United States over Hillary Clinton. Legend wrote: "We didn't think about the election when we planned the release date for this song and video. But in this time of conflict and uncertainty, it's clear that we all need more love."
Watch John Legend's Love Me Now video:
He continued: "I find it in my family and in my music. Embracing my family has made today full of love and light, despite the bad news. But it's also important that we show love and empathy to people who may not look like us or live like us. Those who are marginalised and rejected, feared and left behind.
The video premieres Friday (11 November) and features a diverse group of people from all over the world. From Standing Rock to Iraq, from Orlando to the DR. Love is universal. We all need it. We all can give it. And it will ultimately win over hate. I have to believe that."
Legend had been an outspoken supporter of democratic candidate Clinton throughout her campaign. Love Me Now serves as the lead single for Legend's fifth album Darkness And Light, which is set for release on 2 December.