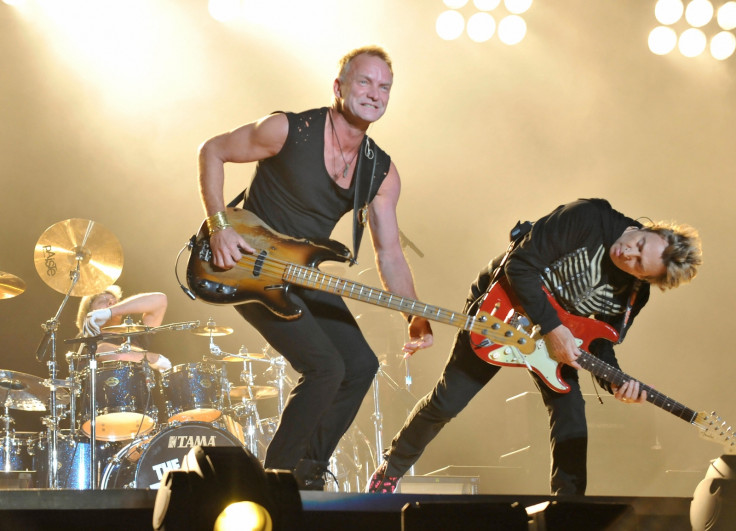 Fans hoping for a The Police reunion will be sorely disappointed as frontman Sting says the band will never perform together again. The British rockers last shared the stage together during their reunion tour almost 10 years ago but Sting says the "nostalgic" shows are unlikely to be repeated.
Sting, 65, released his 12th solo album 57th & 9th on 11 November marking his return to the rock genre after 13 years. Although his music is taking a new direction, opening track I Can't Stop Thinking About You is said to bear similarities to his The Police era.
Discussing the track, the iconic singer told The Sun: "That's my DNA you're hearing. The Police are part of my life blood and I still perform the songs I wrote with them ...  Roxanne, Message In A Bottle, Every Breath You Take."
The Police, who were best known for the songs Roxanne, Every Breath You Take and Message In A Bottle, reformed in 2007 for a mammoth world tour spanning 151 dates. Ending in 2008, the tour covered Asia, Europe and North America, Oceania and South America and is said to have grossed more than $362m (£286.1m).
While Sting acknowledges the shows were well-received, the musician is doubtful it will happen again. The Shape Of My Heart hitmaker explained: "[The tour was a] very successful exercise in nostalgia. It was lovely to get what Americans call 'closure' because we'd never really broken up. I think that tour was essential. It needed the right timing and I take full credit for that because we'd been saying no for 20 years. Any earlier, it may not have worked so I feel very happy about it."
Sting, real name Gordon Sumner, also reflected on the deaths of several iconic singers in 2016 including fellow Brit David Bowie and US singer Prince. Addressing the musical losses, Sting said: "All of us suffer from the delusion that cultural icons like Prince and David Bowie are somehow immortal. There's a god-like quality about them."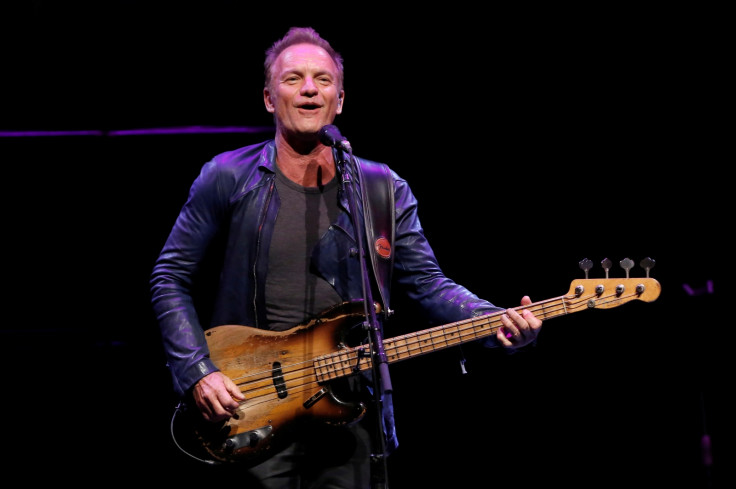 Two days before his death in January, Bowie released his final album Blackstar which served as an ultimate goodbye to his fans. Sting says of the record: "He wrote his own elegy which was an astonishing act of courage. I greatly admire him for that."
In December 2015, Motorhead also lost their frontman Lemmy while Eagles star Glenn Frey passed away in January 2016. Sting said of both musicians: "They were extraordinary artists and a huge loss to the world of music."
Having to mourn the passing of a number of his musical peers, it is understandable that Sting would address the morbid subject of death on his latest album. Explaining the inspiration behind his new single 50,000, Sting revealed: "I wrote it from the point of view of someone like me, not necessarily entirely me, who's probably lived most of his life.
"He's been the centre of attention. He's had everyone listening to his songs and he's experienced the hubris and feeling of intoxication that comes with it. Yet in later life he can admit to himself, 'I really am mortal', without being morbid. [Mortality] may well be the most interesting subject in art . . . whether it's literature, drama, opera or whatever."
Back to the present, Sting also weighed in on the surprising result of the US presidential election with billionaire businessman Donald Trump voted into the White House. The singer quipped: "I'm terrified by the idea of Donald Trump. He wears far too much hairspray for my liking."
Listen to The Police's Roxanne: