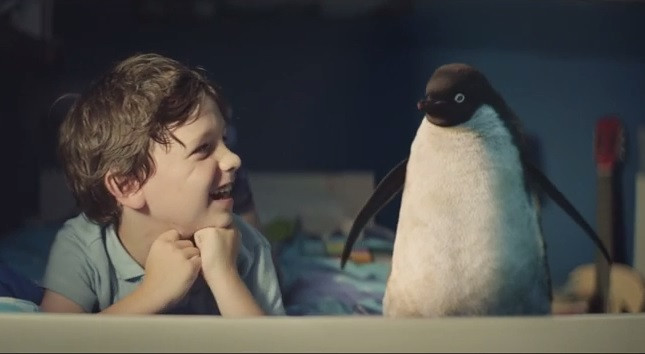 John Lewis' Monty the Penguin Christmas advert has been dubbed the most compelling festive season ad of the year, following an intricate study.
Realeyes measured people's facial reactions as they watched Christmas ads and found that John Lewis' was the most pleasing with a score of 84% on the 'emotionally compelling scale'.
The market research firm measured almost 1,500 people's facial expressions as they watched holiday season adverts to discover which one is the most enjoyable.
Following the Monty the Penguin promotional campaign in second place is Harvey Nichols' ad Could I Be Any Clearer?, which received a score of 80%.
The Post Office finished third with its Get Xmas All Wrapped Up ad, although this was well off the top two with a score of 68%.
Realeyes' CEO Mihkel Jäätma said: "There are four elements to make an ad resonate emotionally. Attract or hook the audience early, retain their attention, engage by invoking some form of reaction – the stronger the better – and finish with impact.
"Monty scored joint highest on engagement and impact with Harvey Nichols, but won because it was the best ad at retaining attention. However, both ads were very mid-table when it came to initial attraction."
H&M's advert finished second bottom, and considering it features stars such as Lady Gaga and Tony Bennett, Jäätma called it an "expensive mistake".
"H&M had the second lowest retention score of all the ads, which meant by the time Gaga and Bennett appeared, audiences had already drifted off – an expensive mistake. Featuring them earlier could have made a big difference," he said.
| | | | |
| --- | --- | --- | --- |
| Rank | Retailer | Advert | Score |
| 1 | John Lewis | Monty the Penguin | 84% |
| 2 | Harvey Nichols | Could I be any clearer? | 80% |
| 3 | Post Office | Gety Xmas all wrapped up | 68% |
| 4 | Boots | Special Because | 64% |
| 5 | Iceland | Peter Andre and desserts | 63% |
| 6 | Lidl | Little present | 59% |
| 7 | Harrods | Land of make believe | 57% |
| 8 | Waitrose | Gingerbread stall | 55% |
| 9 | Sainsbury's | Xmas is for sharing | 53% |
| 10 | House of Fraser | Be you no matter who | 53% |