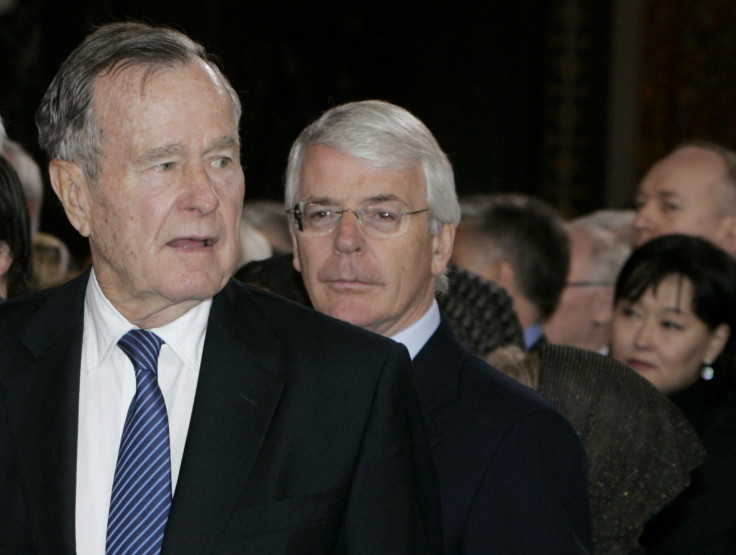 Revealed conversations between John Major and George Bush have shown that the two men discussed sex scandals which rocked the Conservative party and high diplomacy as they led their countries in the early 1990s.
The transcripts of telephone conversations, which were obtained by the BBC, show the US President and British Prime Minister were politically sympathetic to one another and commiserated over their dislike of campaigning and the hostile British press.
In one telling call, Major told Bush: "I've never known them to be so rocky, so testy, so bitter and unpleasant ... we've even had a seedy sex scandal that's run and run in the press," in reference to David Mellor, who was forced to resign from his government post in 1992 after he had an affair with actress Antonia de Sancha.
The transcripts also showed that Major felt under siege by the British press. "The Conservative press here has been bloody" the British leader said. "The BBC has been appalling too ... for what is supposed to be a public television service, it is not impartial at all", Major added.
The pair were also drawn together during the two largest military endeavours of the careers, the Gulf War and the war in Bosnia. "Our military guys ... showed me a map of the airport surrounded by hills full of crazy bastards who would rather die than compromise," George Bush said of the siege of Sarajevo.
Bush and Major also discussed the possibility of regime change in Iraq. "What about explicitly forcing Saddam Hussein out?" the US president asked his British counterpart. "I don't know if the United Nations would go for it," John Major replied.
The communications between the two western leaders has not revealed the kind of casual relationship their successors Tony Blair and Bill Clinton enjoyed. In a similar FOI request by the BBC, Clinton and Blair were seen to have exchanged tips on fatherhood, babysitting and even – bizarrely – Tony Blair's trim, naked, young body,