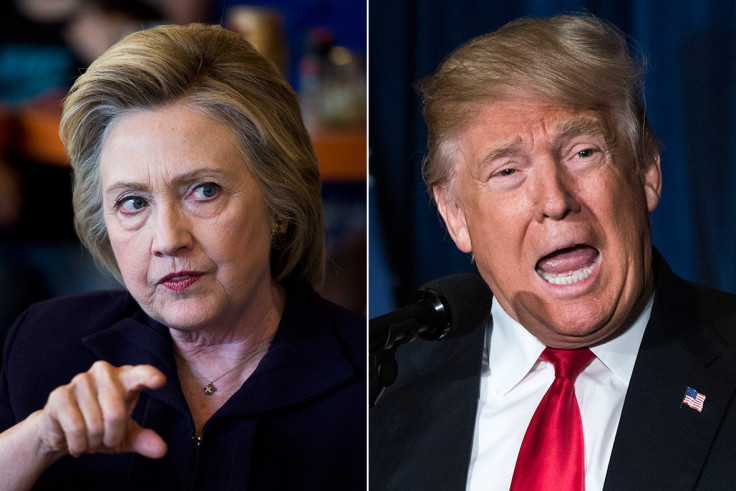 Republican presumptive presidential nominee Donald Trump has hit out at Bill and Hillary Clinton, by accusing the former president of rape.
Trump, who has stepped up his attacks on the Democrat front runner's husband in recent weeks, mentioned women who accused Bill Clinton of sexual harassment in an interview with Fox News.
In the interview with Sean Hannity, in which the host compared allegations of harassment made against Trump to those made against Clinton, Hannity said: "For example, I looked at The New York Times, are they going to interview Juanita Broaddrick? Are they going to interview Paula Jones? Are they going to interview Kathleen Willey?"
All of the women Hannity mentioned were those who alleged Clinton had made unwanted advances towards them.
"In one case, it's about exposure," Hannity said. "In another case, it's about groping and fondling and touching against a woman's will."
"And rape," Trump said. "And rape," Hannity repeated.
Trump added: "And big settlements, massive settlements, and lots of other things. And impeachment for lying... and losing your law licence."
Juanita Broaddrick accused Bill Clinton of raping her in a hotel room in Little Rock in 1978, going public with the allegations – which Clinton's attorney David Kendall denied on his behalf – in an interview with Dateline NBC in 1999.
During the current election campaign, Broaddrick has endorsed Donald Trump and has been a vocal opponent of the Clintons, responding on Twitter after Hillary Clinton tweeted a message about 'believing all abuse survivors".
Trump, who said the New York Times had made him out to be a harasser of women when he was not, also tweeted: "Amazed that Crooked Hillary can do a hit ad on me concerning women when her husband was the WORST abuser of women in US political history."
Trump told a rally of his supporters on 7 May that Hillary Clinton was an "enabler" and was responsible for her husband's affairs.
"She was a total enabler. Have you ever read what Hillary Clinton did to the women that Bill Clinton had affairs with? And they're going after me with women? Give me a break," he said.
In a separate rally, he reiterated his point, stating: ""Do you remember the famous, I did not have sex with that woman?'" Trump asked.
"And then a couple of months later, 'I'm guilty.' And [Hillary Clinton] is taking negative ads on me," he said.
Popularity with women voters has been a topic Clinton and Trump have previously clashed over, with Trump claiming Clinton was "playing the woman card" but was not popular with women, and Clinton hitting back with a women's card campaign.
She said at the time: "If fighting for women's healthcare and paid family leave and equal pay is playing the woman card, then deal me in."
Clinton has banked on the popular support for her husband and told a rally of supporters this week he was going to be "in charge of revitalising the economy".
Neither Clinton nor her husband have responded to Trump's comments, although New York Times reported a spokesperson for Clinton as saying: "Hillary Clinton doesn't care what he [Trump] says about her. She will continue to call him out for his outrageous positions and divisive comments."