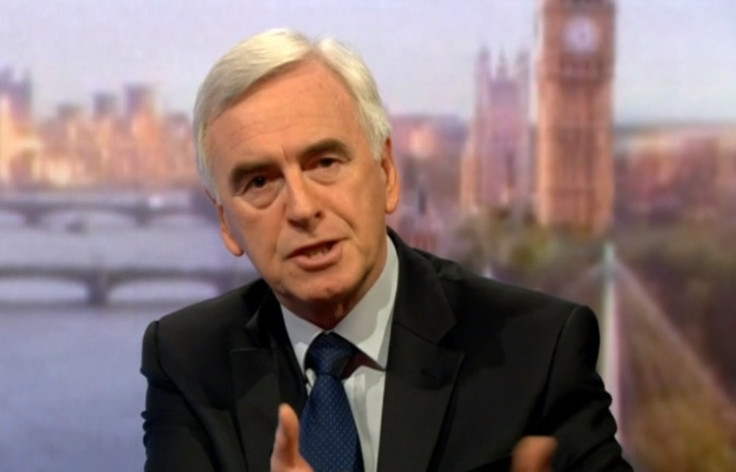 John McDonnell has urged Labour rebels to stop their attempt to "destroy" the party and its leader Jeremy Corbyn. The shadow chancellor appealed directly to party members to unite and end intimidation after his former shadow cabinet colleague Seema Malhotra complained to the Speaker of the House that her parliamentary office had been broken into.
Appearing on the BBC's Andrew Marr show, McDonnell asked what camera he was on before looking directly into it. "We've got to stop this now," he said. "There is a small group out there who wants to destroy our party just to remove Jeremy Corbyn.
"We've got to stop them, we've got to unite and if you want to come for me and Jeremy Corbyn that's up to you but don't pick on staff who can't defend themselves.
"In addition to that, last week Save Labour were talking about splitting the party. I want Owen and Jeremy and everyone to say let's stop this now."
Explaining the Malhotra incident, McDonnell said there had been confusion over whether the MP for Feltham and Heston had vacated her Westminster office after she resigned from her position in the shadow cabinet in protest over Corbyn's leadership.
A McDonnell aide saw boxes outside the office and assumed she had left but when she went back the next day she was met by members of Malhotra's staff who later said they felt "harassed, intimidated and insecure".
The accusation was made after 44 female MPs complained they had been mistreated by Labour members and McDonnell said perpetrators would be kicked out of the party.

"If there is intimidation out there we have got to stop it," he said. "Jeremy Corbyn time and time again has denounced people for any form of abuse. He's brought in procedures to tackle that. We've said we've got to be severe about that. If anyone has perpetrated abuse they should be kicked out of the party."
McDonnell says Corbyn could lose
On the battle for the party leadership, McDonnell, Corbyn's most steadfast supporter, said it was not a "foregone conclusion" the current leader would be swept back into power and said the contest was an opportunity "to heal some of the wounds and bring us together".
More than 183,000 people have reportedly paid £25 to join Labour and vote in the leadership content, leading to claims the election will be hijacked by left-wing groups urging their members to support Corbyn.
McDonnell welcomed the flood of new members and said they were all vetted before their applications were accepted.
"We work on the basis that if we can convert people into the Labour Party then so much the better," he added. "If they're coming in as an entryist tactic from right or left we have a vetting system that is extremely strict and will prevent people from coming in and that's working, it's operating now.
"I think you underestimate the Parliamentary Labour Party. The vast bulk of the PLP, as I said earlier, just want to get on with the job. They will respect the democratic mandate of whoever is leader at the end of this election and I will as well."