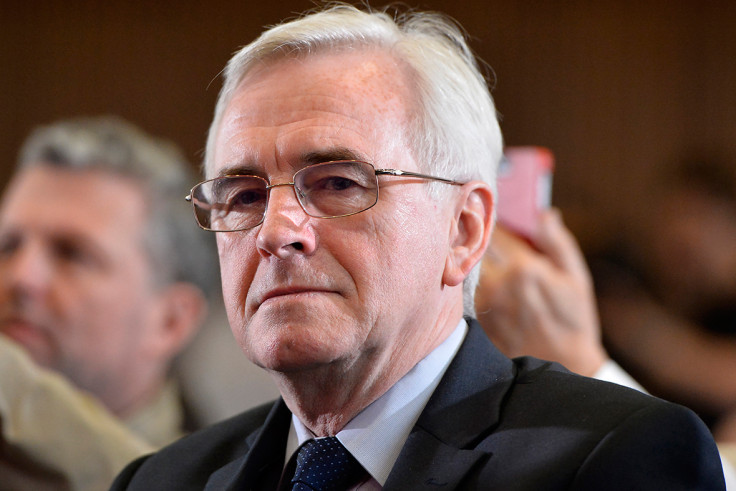 Philip Hammond must face up to the "extreme Brexit fanatics" in his own government, John McDonnell urged the Chancellor on Wednesday (23 November). The shadow Chancellor made the plea in response to Hammond's Autumn Statement to the House of Commons.
"The Chancellor must now do the right thing and insist on full tariff free access to the [EU's] single market," McDonnell said. "I urge him to stand up to the prime minister and the extreme Brexit fanatics in her Cabinet."
The comments came after Hammond revealed that the government would drop George Osborne's budget surplus target for 2019/20 in reaction to growth forecasts from the Office for Budget Responsibility (OBR), which estimate the UK's GDP will rise at a rate of 2.1% in 2016 and drop to 1.4% in 2017.
The slowdown is after the UK voted to split from the EU at a 23 June referendum. McDonnell also claimed the Conservatives had created a class of people "just about managing" or JAMs.
"It's the result of the Tories imposing austerity on the economy that couldn't bear the strain," the left-winger said. "We've seen productivity stagnate, but there's nothing in this Autumn Statement needed to overturn those six wasted years."
McDonnell called on the Chancellor to re-introduce the 50p tax rate for the "very richest" in a bid to make a "fairer tax system". Elsewhere, the shadow chancellor compared Hammond to his predecessor, George Osborne.
"This is press release policy making and not provision. All we need now is the return of the high-viz jacket," he said. "The fourth industrial revolution won't be delivered on delays on old news and re-announcements."
McDonnell also attacked Hammond for failing to mention social care during his Autumn Statement speech, branding the government's current funding as a "stop-gap" measure.
"Many elderly people remain trapped in their homes, isolated and lonely, lacking the care they need," he warned. "You can't cut social care without also hitting the NHS."
Home ownership was one of the shadow chancellor's final targets. He claimed it would remain a dream for young people despite Hammond's promise of a £2.3bn Housing Infrastructure Fund to help build 100,000 new properties.
"Nothing announced today is of the scale needed to suggest it will remain anything other than a dream," McDonnell said.