John Terry has no idea where Rafa Benitez places him in Chelsea's defensive pecking order, admitting he is baffled by the assumption that he can only play one game a week.
The Blues captain has only started three Premier League games since Benitez's appointment in November of last year, but was handed a start alongside David Luiz in Wednesday night's 3-0 win over Fulham, impressing with a resolute display and scoring two goals.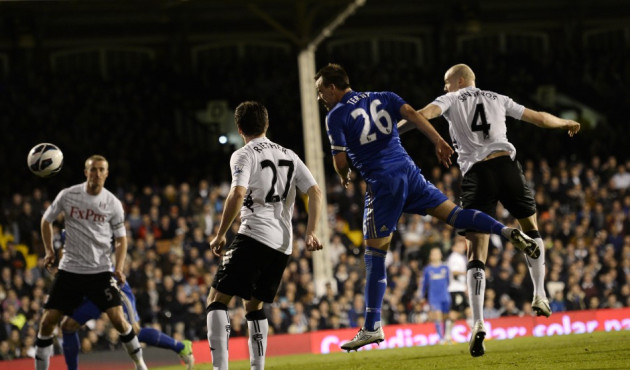 But with Gary Cahill scheduled to return from injury in time for Sunday's all-important clash with Liverpool, Terry admits he does not where he stands with Benitez.
"With Gary coming back, I don't know where that puts me in the pecking order," Terry is quoted as saying in the Evening Standard. "All I can do is train hard and, when I get a chance, play well.
"There are no complaints. If the manager is straight with me and tells me, that's fine. I accept the rotation system. I can play twice a week, three games a week if need be. I don't know where [doubt] arose from.
"I'm fit, I'm training every day and have been for the last three months, so I just want to set the record straight. I'm available, but if at the same time, if the manager chooses not to pick me, there is not a problem because I'm Chelsea through and through and want nothing more than to get Champions League football."
In a growing trend, Terry has featured predominantly in Chelsea's Europa League games, having started five of the club's six games in the competition. But the former England captain has seen himself omitted from his side's higher profile domestic games, having been an unused substitute in both of Chelsea's FA Cup quarter final clashes with Manchester United, and again in their semi-final encounter with Manchester City last Sunday.
Having played the full 90 minutes at Craven Cottage in their mid-week game, Benitez's previous selection decisions would suggest that the 32-eyar-old may find himself benched once again when the Blues travel to Anfield.