England manager Roy Hodgson has revealed his disappointed at John Terry's decision to retire from international football.
The former England captain announced on Sunday evening his decision to retire from international duty prior to facing a Football Association hearing for allegedly racially abusing Anton Ferdinand.
Terry says The FA's decision to pursue the charges after he was cleared at Westminster Magistrates Court in July of a racially aggravated assault means his position with the national team is untenable, and leaves Hodgson saddened by his retirement.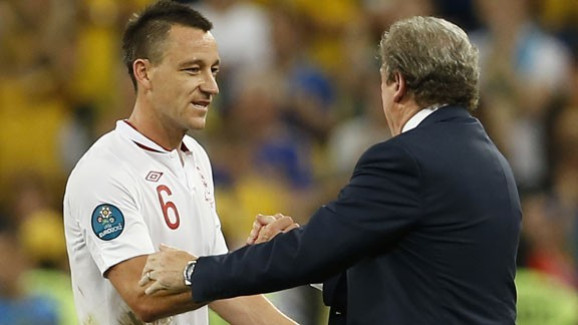 "I'd like to thank John Terry for his commitment to the England team since I became Manager," Hodgson said.
"I am of course disappointed to lose a player of John's international experience and exceptional ability.
"I have enjoyed a good relationship with John during my time as England Manager and I reluctantly accept his decision. I can also confirm that he had the courtesy to call me prior to announcing his retirement from the England team.
"I'd like to wish John well for the future with Chelsea."
Despite facing charges of racially abusing Ferdinand, earlier this year, Hodgson opted to back the Chelsea captain, picking him for the summer's European Championship.
Hodgson had also publically stated last month he hoped that The FA would clear Terry of the charges and that he could continue playing for his country.
"Everything I say can be misinterpreted. As far as I'm concerned he has a case to answer with the FA and I'll wait and see what happens," Hodgson said.
"I'm hoping, and I make no secret of that, the case will take its course, and that John, hopefully, will be freed as he was freed in a court of law, and will carry on playing for England.
"That's my hope. What will happen, I have no idea. As a member of the FA, it's a sub judice situation and I'm not prepared to say any more.
"I thought John did well in the Euros and I'd like to keep using him but this is a case which is way out of my hands. John understands that.
"All I can do, like many of his supporters I suppose, is just hope he gets freed and can continue to play."
In retiring from England duty, Terry has seemingly conceded that he will be charged this week by The FA and on top of being banned for a significant period for his club, would deem his international career over.
His absence leaves Hodgson with a selection headache ahead of the remainder of England's World Cup qualifying campaign, with the likes of Gary Cahill, Phil Jagielka and Joleon Lescott likely to fill the void.