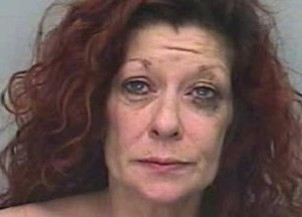 A drunken woman seized control of a boat and set sail while pretending to be swashbuckling pirate Jack Sparrow, only to end up in the dock - at Torquay Magistrates Court.
Alison Whelan, 52, has been jailed for 122 days after being found guilty of aggravated vehicle taking on the night of 10 September 2011.
The court heard that Whelan, a long-standing alcoholic, had been drinking Lambrini wine and taking hallucinogenic drugs before boarding the Dart Princess ferry in Darmouth, Devon with friend Tristam Locke.
Their attention was drawn to the 100-seat boat after they repeatedly tripped over its mooring ropes.
When the 14m-long craft was launched, it quickly started bouncing "like a pinball machine" into other boats, reported witnesses.
Whelan was heard shouting repeatedly: "I'm Jack Sparrow. I'm a pirate," in reference to the character played by Johnny Depp in the popular franchise Pirates of the Caribbean.
The vessel drifted for an hour before coming to rest by crashing into a fibreglass catamaran, worth £70,000.
Emergency services personnel who boarded the damaged boat once it came to a halt were met by a stream of invective from Whelan.
She berated up to 30 personnel: "Why are you doing this now" and " I believe this is out of your jurisdiction."
Whelan even told the police offers arresting her that she "would have ended up in St Tropez" if she hadn't hit the catamaran.
Locke was fined £100 in a separate court case, which finished last year. He admitted to beating the ambulance technician who took part in the rescue.