Johnny Depp has raised eyebrows after appearing to threaten to kill US President Donald Trump. The actor, who has expressed his disdain towards the real estate mogul on several occasions, stunned revellers during a speech at the Glastonbury Festival by claiming it had "been a while" since a commander-in-chief had been assassinated.
The 54-year-old star veered off into politics as he introduced a screening of his 2004 film The Libertine to an audience of 1,500. "When was the last time an actor assassinated a president?" he joked about the hypothetical murder.
"I want to clarify," he added, "I'm not an actor. I lie for a living [but] it's been a while. Maybe it's about time."
The star wouldn't be the first to have violent thoughts about Trump since his victory over Democratic hopeful Hillary Clinton at the 2016 election.
Robert De Niro
Back in October, the Hollywood icon didn't hold back with his assessment of Trump in an on-camera rant filmed as part of a video for the #voteforyourfuture campaign and even threatened to punch him.
"It makes me so angry that this country has gotten to this point that this fool, this bozo, has wound up where he has. He talks how he wants to punch people in the face? Well, I'd like to punch him in the face."
Madonna
On 21 January the pop icon also alluded to exterminating the president during a polarising speech in front of thousands of protesters in Washington DC to campaign for women's rights.
At the rally, she said she "thought an awful lot about blowing up the White House. But I know this won't change anything. We cannot fall into despair."
After being hit with a barrage of backlash and calls for her arrest amid reports that the secret service could launch an investigation, she took to social media to clarify her comments, telling fans that her words had been taken "wildly out of context".
Snoop Dogg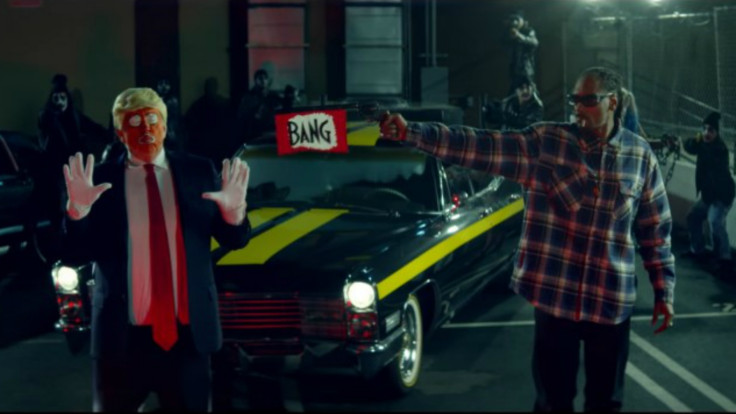 The hip hop star made his thoughts on Trump clear when he shot a clown version of Trump, in the music video for his track, Lavender.
The Drop It Like It's Hot rapper was widely-condemned over the "assassination" scene, telling TMZ that the rapper could be sending out the wrong idea.
Trump himself responding to the controversial scene in a scathing Twitter post which read: "Can you imagine what the outcry would be if @SnoopDogg, failing career and all, had aimed and fired the gun at President Obama? Jail time!"
"I feel like it's a lot of people making cool records, having fun, partying, but nobody's dealing with the real issue with this f*cking clown as president, and the sh*t that we dealing with out here, so I wanted to take time out to push pause on a party record and make one of these records for the time being," the rapper told Billboard.
"The ban that this m**********r tried to put up; him winning the presidency; police being able to kill m***********s and get away with it; people being in jail for weed for 20, 30 years."
Kathy Griffin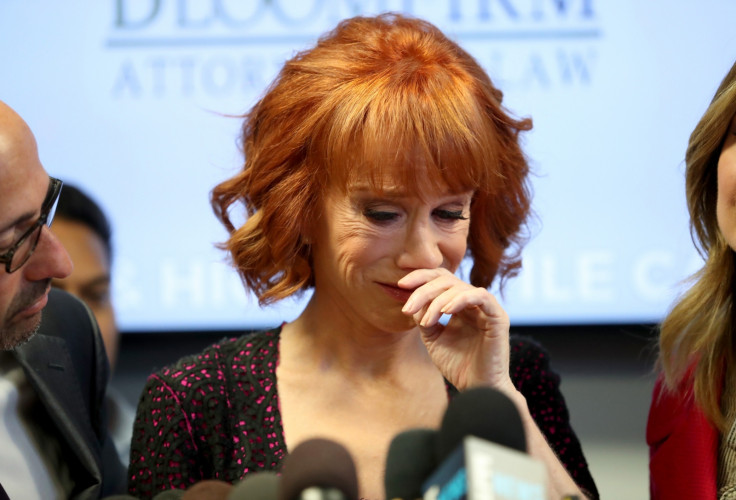 Back in May, the comedienne faced criticism after she posted a photo of her posing with a bloodied fake Donald Trump head. The POTUS said the "sick" image was reminiscent of Isis beheading propaganda and that she "should be ashamed of herself."
CNN subsequently cut ties with Griffin, confirming in a statement that they had terminated their agreement with Griffin to appear on their New Year's Eve broadcast alongside Anderson Cooper, a show she has taken part in for a decade.