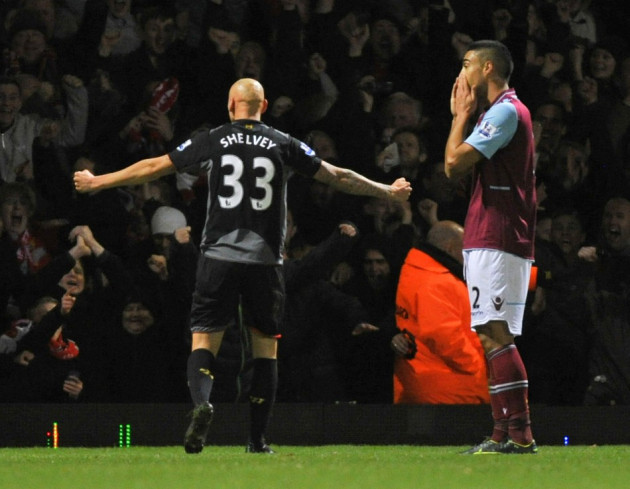 Liverpool full-back Glen Johnson believes the club proved they have a ready-made replacement for Luis Suarez in the form of Jonjo Shelvey following the win at West Ham United.
Johnson scored the opener at Upton Park, before Joe Cole's strike and James Collins' own goal, which came after pressure from Shelvey, secured only The Reds' second away league win of the season.
With Suarez suspended for the trip to east London, Johnson feels Liverpool dismissed any notion they're a one-man team as Shelvey stepped into the breach.
"The players and the staff have never thought that we are a one-man team, not ever," Johnson said. "Of course any team is going to miss Luis Suarez, but we have players here who can step in and do a job.
"We play the way we play, with or without Luis. I thought Jonjo did fantastically well on Sunday. He got into a few good positions, and grew into the role.
"I think at the start it was a bit unusual for him, but he found his feet and I thought he did very well.
"That's what you have to do these days," the England full-back added. "You have to be willing to play in other positions, and do a job for the team when they need you to. It's a long season, and throughout the year you're going to get injuries and suspensions.
"And you might have to play in positions you're not used to, but that's fine. There are not many players that can only play in one position these days."
The ex-West Ham defender scored his third goal in as many games against his former club inside 11 minutes, but refused to celebrate out of respect for the side where he began his professional career.
"It was difficult, because when you hit a goal like that you want to go mad, of course!" he said. "But I spent a lot of years at West Ham, and I owe a lot of my career to them, so I didn't want to celebrate out of respect for the fans."
Despite earning three wins over Southampton, Udinese and West Ham in the past week, Brendan Rodgers refused to label the recent spell of good form as the best period during his tenure as Liverpool manager.
A second away league win of the season has propelled Liverpool into the top four of the Premier League, following a start to the season which threatened to undermine Rodgers' first season in charge.