Hundreds of angry Palestinians have turned out for the funerals of a Palestine-born Jordanian judge shot dead by Israeli Defence Forces (IDF) at a border crossing.
A crowd carried the body of Raed Zueter, 38, wrapped in the flags of Palestine and Jordan across his native city of Nablus.
"They killed my only son in cold blood," Zueter's father Alaa told AFP. "My son was unarmed, he wouldn't even know how to use a weapon."
The IDF said that Zueter, who had Jordanian citizenship and worked as a judge in Amman, tried to snatch a weapon and strangle a soldier at the Allenby crossing between the West Bank and Jordan.
"The terrorist charged forces with a metal pole while shouting "Allah Akbar," and then attempted to seize one soldier's weapon," the IDF said.
"Soldiers responded to the attack in accordance with standard procedures, firing at the terrorist's lower extremities. The suspect then began to strangle a soldier, and the forces again resorted to using live fire, resulting in the terrorist's death."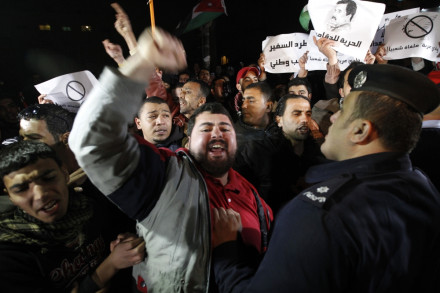 Alaa Zueter said witnesses told him that they saw Israeli soldiers insulting his son and pushing him to the ground before opening fire.
Others claimed the incident was sparked by an argument over a cigarette, AFP reported.
The shooting triggered protests both in the West Bank and Jordan, where demonstrators gathered outside the Israeli embassy in Amman.
Protesters called for Tel Aviv's envoy to be expelled while some burnt Israeli flags.
Jordan's government vowed to take "firm measures" against those responsible.
"We are following up the investigation," Mohammad Momani, Jordan's minister of state for media affairs said.
"When we get the results we will announce firm measures. We also take measures against those involved in the killing of the judge."
The Palestinian government called for an independent probe to be launched. It described the killing as "one of a series of violations of human rights in Palestine".
The office of Israel's Prime Minister Benjamin Netanyahu said: "Israel regrets the death of Judge Raed Zeiter at the King Hussein (Allenby) bridge and expresses its sympathies to the people and government of Jordan.
"In light of our commitment to the peace treaty, Israel has already shared with Jordan the results of its preliminary investigation of the incident.
"Israel has also agreed to a Jordanian request to establish a joint Israeli-Jordanian team to complete the investigation."