Jordanian pilot burned alive: Thousands march against Isis in Amman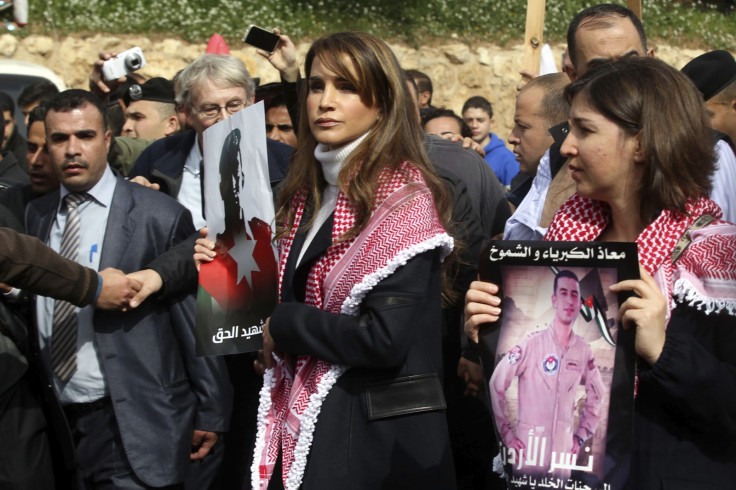 Thousands of people took to the streets of Amman, Jordan, to protest against the Islamic State (Isis) after the barbaric execution of a Jordanian pilot who was burned to death in Raqqa.
A gruesome video of the execution, which was carried out at the beginning of January, was published last week and caused outrage in the Arab kingdom, triggering air strikes in Syria. Thirty Jordanian warplanes hit IS training camps and weapons depots, seeking vengeance for the killing of Moaz al-Kasasbeh, the 26-year-old pilot who was burned alive in a cage by the extremist group.
The army did not specify the location of the air strikes, but said that "dozens of jet fighters" struck IS in Raqqa, the jihadist group's de facto capital.
The operation was called "Moaz the Martyr" after the deceased pilot. On their way back, the planes flew over the village of Kasasbeh.
The Jordanian foreign minister said retaliation for the pilot's execution was just getting started and King Abdullah II personally paid a visit to the killed pilot's father.
Among the thousands of Jordans that gathered in the streets of the capital was Jordan's Queen Rania, who joined the rally wearing a black suit and a red-and-white checked keffiyeh over her shoulders.
The crowd, waving Jordanian flags and holding pictures of Kasasbeh, chanted "We are all Moaz" and "We are all Jordan" and showed placards reading "Yes to punishment. Yes to the eradication of terrorism".
Some protesters shouted "death to Islamic State" and beheaded and burned the effigy of IS leader Abu Bakr Al-Baghdadi according to some reports.
© Copyright IBTimes 2023. All rights reserved.