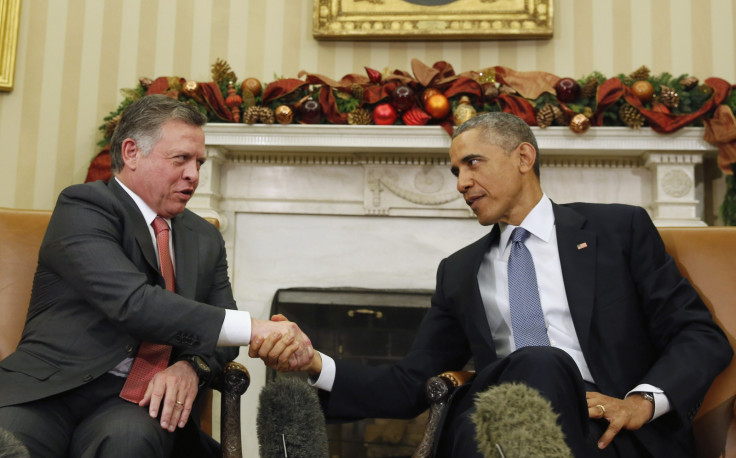 Jordan's King Abdullah has vowed a "relentless" war against Islamic State (Isis) following the release of a video showing a Jordanian air force pilot being burnt alive in a cage by militants.
The king called the killing a cowardly act of terror by a criminal group that has no relation to Islam.
"We are waging this war to protect our faith, our values and human principles and our war for their sake will be relentless and will hit them in their own ground," he said in a televised statement to the nation during a security meeting.
Jordan hanged two Iraqi jihadists in retaliation and vowed to intensify military action against Islamic State.
Two other prisoners on death row in Jordan include a Syrian convicted for a rocket attack in August 2005 against a US navy vessel and a Jordanian al-Qaeda operative.
There are at least 250 militants in prison, most of them Islamic State sympathisers.
Jordan, which is a major ally of the US in the assault against Islamic State, had earlier promised an "earth-shaking response" to the killing of its pilot, Moaz al-Kasasbeh, 26, who was captured after his F-16 crashed.
Government spokesman Mohammad al-Momani said: "We are talking about a collaborative effort between coalition members to intensify efforts to stop extremism and terrorism to undermine, degrade and eventually finish Daesh."
Daesh is a derogatory Arabic term for the Islamic State.
Muslim clerics across the Middle East have condemned the heinous killing and called it despicable, reports Reuters.
Islamic militants had demanded the release of Sajida al-Rishawi sentenced to death in Jordan for a 2005 suicide bomb attack.
Her release was sought for a swap of prisoners but the IS eventually beheaded the Japanese hostage.
Jordan also executed a senior al-Qaeda prisoner, Ziyad Karboli, an Iraqi man sentenced to death in 2008.
Following the capture of the Jordanian pilot, the United Arab Emirates had withdrawn from air strikes in the US-led coalition campaign.
Islamic State has seized large areas of Iraq and Syria, Jordan's neighbours to the north and east.