Jose Mourinho has claimed that he is still Chelsea's No 1 manager after being jeered at Stamford Bridge during Manchester United's 1-0 defeat to the Blues in the FA Cup quarterfinals on Monday night (13 March). Meanwhile, the Portuguese boss said that the Red Devils were in control of the game until Ander Herrera was sent off in the 35th minute of the game for two bookable offences on Eden Hazard.
The United boss reminded the Chelsea fans that he led them to three Premier League titles during his time at Stamford Bridge by holding up three fingers when a section of the fan call him Judas.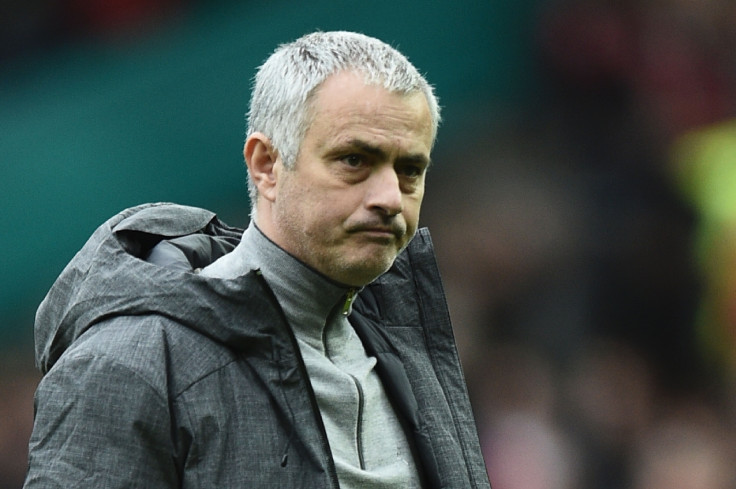 Later in the press conference, Mourinho added: "They can call what they want, I am professional and I defend my club. Until the moment they have a manager that wins four Premier Leagues for them, I am the number one. When they have somebody that wins four Premier Leagues, I become number two. But until this moment Judas is number one."
Antonio Conte accused United players of targeting Hazard as Herrera left his side with 10 men after picking up two yellow cards for two fouls on the Belgium star.
Mourinho, meanwhile, defended his tactics to stop the "counter-attack" style of his Chelsea successor while adding that United were actually in control of the situation until Herrera's dismissal.
"The game was completely under control [before the red card]. They couldn't find what is their game. I keep saying their game is counter attack and when a team closes the spaces in between the lines and closes the full-backs, they have no qualities to be dangerous," the United boss said.
"In the second half with 10 men, we started with two up and they had a very important role in our attacking football, but also defending and building up from the three central defenders. Azpilicueta started coming up and creating situations where they brought us back, but even so we were brilliant in the way we played. We had two very good chances, the Marcus one was the biggest, and we were there. But I cannot be more proud of the players and the fans."
Yet, Mourinho failed to give his verdict on Herrera's red card after saying that Michael Oliver is a "referee with fantastic potential".
"Everybody can analyse in different perspectives, everyone can do it in a different way, but I think we all watched the match until the red card," the United boss added. "After the red card, then we can compare the decisions of these two yellow cards, in this case the second yellow card with ones that were not given. But I don't want to go in that direction. This season Mr Michael Oliver is a referee with fantastic potential, but with Manchester United we were a bit unlucky. In four matches, [we have had] three penalties and one red card in such an early moment of the game. But again I cannot change that, but I can try to interfere in the Thursday match [against Rostov] which is the match that is coming and now we have to rest."