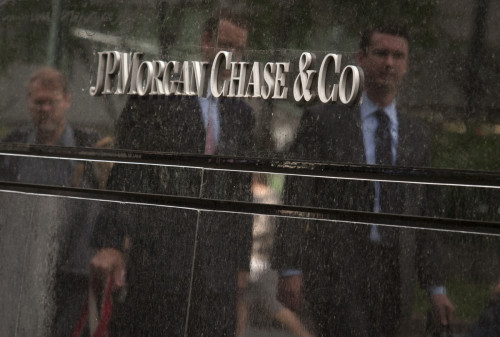 JPMorgan profits took a hit in 2013 after the Wall Street giant stumped up billions of dollars in fines and settlements related to its role as banker to convicted fraudster Bernie Madoff, its failure to prevent the huge London Whale losses, and for the sale of toxic mortgage-backed securities.
The US banking giant said net income for the year was $17.9bn (€13bn, £10.9bn), down 17% on $21.3bn in 2012.
It follows a high profile multi-billion dollar settlements with former customers over its mortgage-backed securities investments.
And $1.7bn in settlements with US prosecutors who accused JPM of failing to sound the alarm over suspicious financial activity involving their client Madoff, who was imprisoned for 150 years in 2009 after his $65bn Ponzi scheme collapsed.
JPM denies all knowledge of wrongdoing.
"It was in the best interests of our company and shareholders for us to accept responsibility, resolve these issues and move forward," said Jamie Dimon, chairman and chief executive of JPM.
In October the bank agreed to a $13bn settlement with the US Department of Justice to end a series of probes into its mortgage products from before the financial crisis.
However JPM is not free of criminal liability. It must continue to cooperate with authorities in criminal inquiries into individuals who previously worked for the bank.
JPM also reached a $4.5bn deal with 21 institutional investors in 330 residential mortgage-backed securities (RMBS) trusts issued by JPM and Bear Stearns, a bank it acquired during the financial crisis. The group of investors was represented by law firm Gibbs & Bruns.
It received a near $1bn fine from US and UK financial regulators over its failings relating to the London Whale scandal, in which one trader – Bruno Iksil – built up $6bn of losses in a series of terrible market bets.
The bank was accused of not reacting quickly enough to warning signs from its London investment office where the huge loss was made, as well as not being fully transparent with regulators.
European regulators slapped JPM with a €79.9m fine for its involvement in a rate-fixing cartel in the Japanese yen interest rate derivatives market.