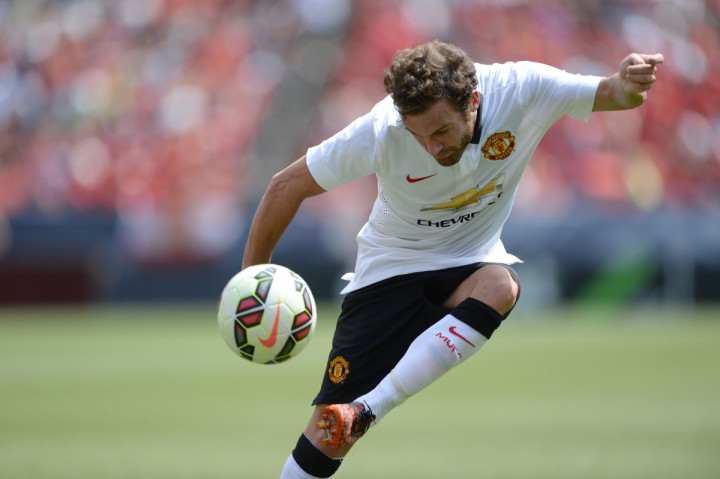 Juan Mata has expressed his disappointment after Manchester United's 5-3 defeat against Leicester City after the Spanish international was left on the bench to make space for new signing Radamel Falcao.
Van Gaal deployed Wayne Rooney in Mata's No.10 role while Falcao and Robin Van Persie started the game up front.
United started the game well and led 3-1 but with less than half an hour to go they capitulated as Leicester staged a stunning comeback to secure a remarkable victory.
The Spaniard looked devastated after the defeat and admits he never saw the result coming with United cruising for much of the game.
"Today it took me a long time to sit down in front of the computer in order not to miss my weekly meeting with you. I have waited a few hours before facing the white screen to try to express how I feel after the game in Leicester," Mata wrote in his official weekly blog.
"After a whole week waiting for the match I could not imagine a Sunday like this. The way back from Leicester to Manchester on the bus seemed really long."
"I keep thinking about how we lost a game that was under control, but the thing is we were ahead, they equalised and when we tried to get advantage again we lost. It's really tough to score three goals away and come back home with no points.
"On our way back to Manchester I was thinking about what had happened and felt so disappointed as all those that came with us to the stadium. Honestly, I feel very sorry that the weekend ended up for our fans in such a sad way."
Nevertheless, Mata has urged his fellow teammates and supporters to put the defeat behind them against West Ham United and Everton.
"There is time during the week to analyse what happened and learn from our mistakes so as not to make them again. Now we play two consecutive games in Old Trafford that we want to win for our fans. We will put our best efforts to it, you can be sure of that.
"I hope to be in a better mood next Sunday to tell you about the game and many other things, to try to put a smile in our face on Monday. Thank you for being there in the good and the bad times and never giving up. It is important to feel your support."