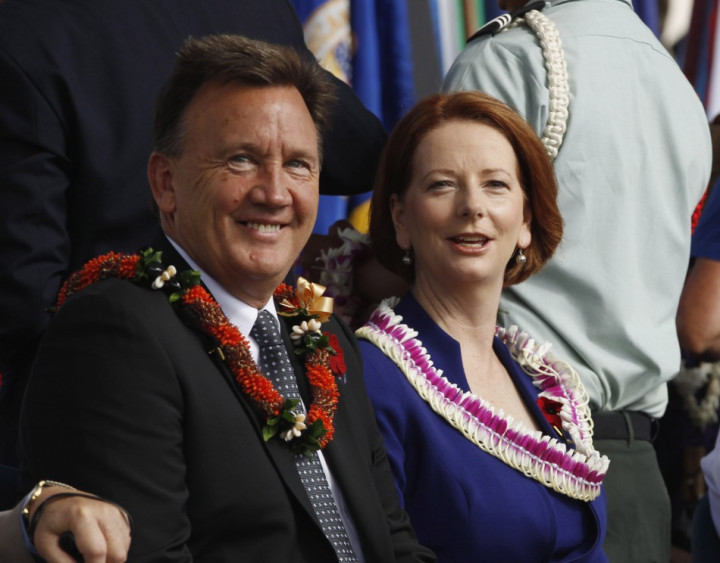 Australia's so-called sex war witnessed an extraordinary day as Prime Minister Julia Gillard was first backed by the Dalai Lama in a campaign against misogyny, before being asked if her husband was gay.
Earlier, the 51-year old leader had obtained an apology from an opposition politician over a dinner menu mocking her body.
Speaking in Sydney during a 10-day tour of Australia, the Dalai Lama was questioned about the gender conflict which is currently dominating Australia's political debate, and said his successor might well be a woman.
"If the circumstances are such that a female Dalai Lama is more useful, then automatically a female Dalai Lama will come," His Holiness Tenzin Gyatso, 77, said, adding that the world needs more female leaders, who are better equipped to face the current "moral crisis".
"Biologically, females have more potential," the exiled Tibetan leader said. "[They] have more sensitivity about others' wellbeing."
Later Gillard was ambushed on air during an interview with Perth 6PR radio host Howard Sattler, who asked whether her hairdresser partner Tim Mathieson is homosexual.
"Tim's gay?" Sattler asked a baffled Gillard.
"Well that's absurd," Gillard answered.
"But you hear it," the host replied, referring to what he earlier described as "myths, rumours, snide jokes and innuendo" surrounding their relationship.
"He must be gay, he's a hairdresser. It's not me saying it" Sattler added, to which his guest retorted: "Well, Howard, I don't know whether every silly thing that gets said is going to be repeated to me now.
"But to all the hairdressers out there, including the men who are listening, I don't think that in life one can look at a whole profession full of different human beings and say gee, we know something about everyone of those human beings."
'A pattern of misogynist behaviour'
Gillard first became a symbol of women's rights in October last year, by lashing out at opposition leader Tony Abbott in Parliament.
"I will not be lectured about sexism and misogyny by this man. I will not," Gillard, 51, told lawmakers.
Abbott's Liberal Party continues to pose problems for Gillard with a tirade of mockery, the most recent attack coming at a fundraising dinner for former cabinet minister Mal Brough in March.
The menu for the fundraiser included an item described as "Julia Gillard Kentucky Fried Quail - Small Breasts, Huge Thighs & A Big Red Box".
Gillard accused Abbott of a "pattern of misogynist behaviour", and described Liberal party members as "men in blue ties" who would marginalise women and undermine abortion rights if elected.
Brough, who is about to stand for election as a Liberal candidate, has eventually apologised for the "deeply regrettable, offensive and sexist" menu.