WikiLeaks founder Julian Assange has no "quick way out" of the Ecuadorean embassy in London where he has been residing since June 2012, Ecuador's prosecutor said. Earlier in November, Assange was questioned at the embassy by Swedish prosecutor Ingrid Isgren and an Ecuadorean state attorney over allegations that he committed rape and sexual assault in Sweden in 2010 - charges which the 45-year-old Australian denies.
Ecuador's prosecutor, Galo Chiriboga, said Ecuadorian officials will send over a written version of the testimony to Swedish authorities in December. The Swedish Prosecution Authority previously said that since the investigation is ongoing, it is subject to confidentiality.
Assange said he fears extradition to Sweden as well as the United States where he could face espionage charges based on the publication of thousands of classified documents that were given to the whistle-blowing website by Chelsea Manning. He is also wanted in Britain for violating the terms of his house arrest, according to Reuters.
In September, a Swedish court ruled that the arrest warrant for Assange over the rape allegations would still stand.
"Four years have passed and we are only at this stage, but that is no longer attributable to Ecuador, it is attributable to Swedish prosecutors," Chiriboga said, Reuters reports. "I do not think there is a quick way out."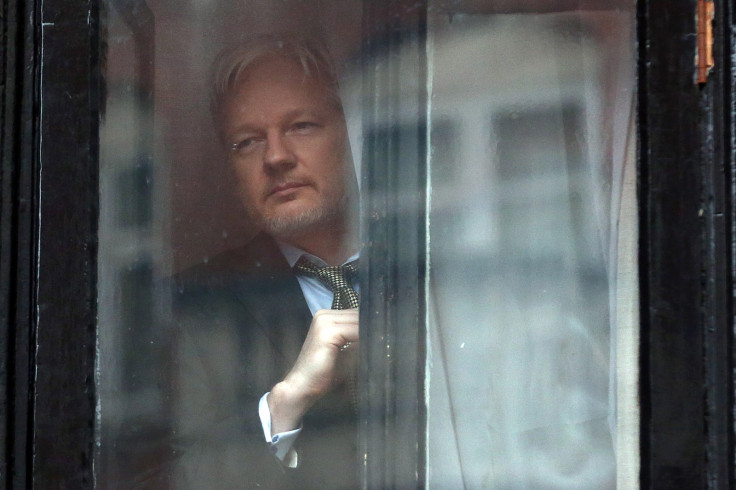 Earlier in November, Ecuadorean foreign minister Guillaume Long said Assange should receive guarantees that he will not be extradited to the US if he faces justice in Sweden. However, a Swedish government official said it was not feasible to provide such a guarantee since the US was yet to ask Sweden to extradite him.
Chiriboga also confirmed that a DNA sample had been taken by British police from Assange at the embassy.
"Therefore Sweden will now have to request that DNA sample from the British policy," Chiriboga said, The Guardian reports.
Having published sensitive documents for more than a decade, WikiLeaks has remained in the spotlight during the US presidential election campaign by releasing thousands of emails from the Democratic National Committee and Hillary Clinton's campaign chairman John Podesta's account.
Clinton's campaign blamed Russia for the breaches and subsequent constant trickle of leaked emails published by WikiLeaks, arguing that President Vladimir Putin was attempting to influence the outcome of the election.
On 8 November, Assange issued a statement defending WikiLeaks' actions and denying claims that the series of leaked emails were an attempt to sway the election results.
"On the eve of the election, it is important to restate why we have published what we have," Assange said . "The right to receive and impart true information is the guiding principle of WikiLeaks – an organisation that has a staff and organisational mission far beyond myself. Our organisation defends the public's right to be informed. This is why, irrespective of the outcome of the 2016 US presidential election, the real victor is the US public which is better informed as a result of our work."
WikiLeaks recently released The Yemen Files and over 500,000 US diplomatic cables from 1979. However, supporters have continued to ask for proof-of-life amid constant rumours and conspiracy theories about whether Assange is still alive or not.
Last week, WikiLeaks' Twitter account asked its followers to stop the constant deluge of proof-of-life requests saying: "We do not control Assange's physical environment or internet connection."